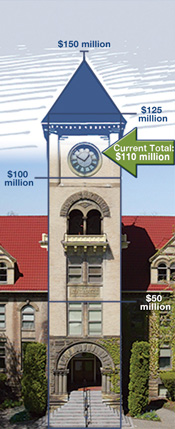 When Whitman College publicly announced its Now Is the Time campaign in November 2011, it signaled the intentions of the already prominent liberal arts institution to build a brighter future. The campaign launch served as a rallying call, and that call was answered in record numbers.
At the time of the launch, gifts acquired during the quiet phase totaled about $97 million. The total now is $110 million.
John Bogley, vice president for development and college relations, reports that gifts made during the 2011-12 fiscal year surpassed $18.5 million. This giving total exceeds the previous all-time high in giving to the college, achieved a year ago, by almost 22 percent. New commitments to the campaign this past year, including multi-year pledges, have exceeded $21 million.
"Our record year in giving reflects the immense generosity of Whitman's alumni and friends, their endorsement of our vision of Whitman's future and the unprecedented success of the Now Is the Time campaign," said President George Bridges. "Words do not adequately express how grateful the governing board members, campus leaders, and Whitman faculty and staff feel about this tremendous outpouring of support."
Among the highlights of the year:
Two new professorships have been established.
More than 1/3 of all parents gave to Whitman, with gifts totaling nearly $1.3 million – this is in addition to the many parents who serve as volunteers in a variety of capacities.
A record-setting Senior Class Fund resulted in gifts exceeding $75,000.
Faculty and staff giving increased significantly in both dollars – $59,255 – and number of donors – 131.
"The outpouring of support has been extraordinary," said John Bogley '85, vice president for development and college relations. "Already, gifts to the campaign are allowing us to add professorships, increase the number of paid internships for students, expand student-faculty research opportunities and endow our commitment to providing access for students regardless of their economic circumstances."
Bogley also points to belief in Whitman in the face of trying times in higher education: "At a time when the value and impact of higher education – particularly undergraduate liberal arts – is being questioned, we should feel confident knowing that we could invite any of those critics to see what happens here and that they would leave knowing that what Whitman does is vital, relevant and invaluable. It is remarkable that a small college in a small town in a remote corner of the Northwest can be so central in shaping students' lives in such a meaningful way."
The Now Is the Time campaign goal is $150 million; the target completion date is June 2015. It is designed to advance the college in three key areas – academic excellence, scholarship support and financial strength:
Academic excellence: $75 million – Whitman will add depth and breadth to its academic program, nationally renowned for rigor and engagement of students, in large part by adding 12 new, endowed faculty positions. Also, Whitman plans to increase opportunities for student-faculty research, internships and other experiential learning opportunities while building on an ongoing effort to globalize its curriculum.
Scholarship support: $50 million – The campaign will improve access to a Whitman education by endowing the college's commitment to providing support for qualified students from all socioeconomic backgrounds. Campaign gifts will endow need-based aid and bolster merit scholarships.
Financial Strength: $25 million – By increasing focus on gifts to its general endowment, Whitman will gain long-term financial strength and flexibility for its operations. A focus on growth of gifts to the Annual Fund also will provide an immediate impact on the student experience and educational programs.
"We are on track and confident that we will reach our campaign goals, achievement of which is imperative to building an educational experience of exceptional value that prepares our students for leadership in the 21st century," Bogley said.
To learn more about the campaign or to discuss ways to participate, contact John Bogley at bogleyjw@whitman.edu. Or visit the campaign website.
For more on the year in giving, watch for the October issue of Whitman Magazine, which features the Annual Report of Gifts.