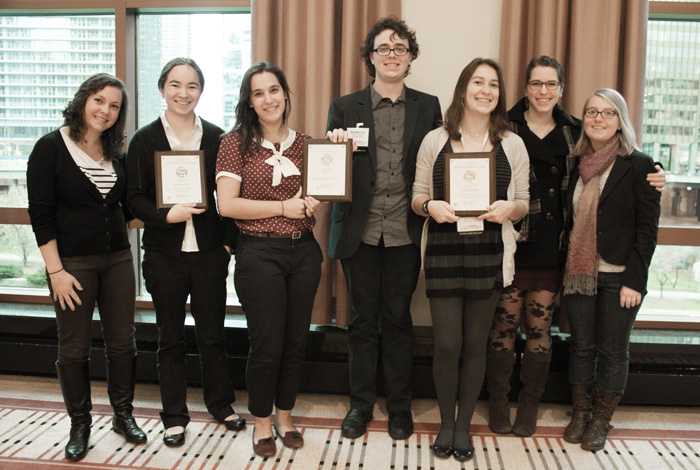 The Pioneer took home three awards from the Associated Collegiate Press conference in Chicago. From left: Hannah Bauer '13, Emily Lin-Jones '15, Aleida Fernandez '15, Blair Hanley Frank '13, Rachel Alexander '13, Allison Work '15 and Sarah Cornett '16. Photo courtesy of Marie Hafften '13 /The Pioneer.
The website of Whitman's weekly student newspaper has once again been honored as "Best of Show" in its category of schools at the 91st Annual Associated Collegiate Press/College Media Advisers Convention, held in November in Chicago. This is the fourth time in five years that the Pioneer website has been recognized on the national level.
In addition, two students received individual reporting awards for articles published this year in The Pioneer. Editor-in-chief Rachel Alexander '13, a politics-environmental studies major from Seattle, won second place in the Feature category, beating out competition from schools such as Princeton and University of Chicago; her story explored sexual misconduct policy. News editor Emily Lin-Jones '15 of Castro Valley, Calif., took fifth in the Diversity category for her story looking at diversity levels on campus.
The Pioneer website was ranked first in its category of schools with fewer than 5,000 students. Fellow entrants included the College of William and Mary, Wake Forest University and St. Mary's University. This year, the website was also a finalist for the Pacemaker Award, the highest honor bestowed at the competition.
"It was very gratifying to receive top honors alongside large schools with daily newspapers, including Yale and Princeton," said Alexander. "I think it speaks to both the quality of a Whitman education and the journalistic standards we've established over the years at The Pioneer."
Eight members of the Pioneer staff attended the conference and participated in workshops and break-out sessions, and later accepted the awards. In addition to Alexander and Lin-Jones, students included: Marie von Haften '13, photography editor; Blair Hanley Frank '13, web editor; Hannah Bauer '13, advertising manager; Aleida Fernandez '15, web content editor; Allison Work '15, co-news editor; and Sarah Cornett '16, news reporter.