We're about to land on Mars. Again.
NASA's most advanced planetary rover, Curiosity, is scheduled to touch down on the Martian surface at 10:31 p.m. PDT on Sunday, Aug. 5.
Live mission coverage is scheduled to be broadcast on the Toshiba Vision screen in New York City's Times Square.
The mission will also be broadcast on NASA Television and on NASA's Third Rock Radio.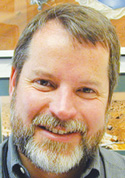 Rob Manning
"The spacecraft [carrying Curiosity] is on target," said Rob Manning '80, flight system chief engineer at NASA's Jet Propulsion Laboratory.
"After hundreds of millions of miles and four course corrections since launch, we are looking like we will be within a couple of football fields from our target when the rover hits the top of the atmosphere."
Manning, who leads the team that designs NASA's Mars rovers, said to land Curiosity at the foot of Mount Sharp, which lies inside Gale Crater, hundreds of events will need to go right, many with split-second timing.
"Of course our accuracy degrades by the time we fly through the uncertain Mars atmosphere, but Mars Science Laboratory will do its best to correct any errors during entry."
Once on the ground, Curiosity will begin two years of "unprecedented scientific detective work," according to a NASA press release. The rover will investigate whether microbial life could have ever existed in an area with "a wet history" inside Gale Crater.
"This is by far the most complex interplanetary mission that I know of, and I have been wrestling with that complexity for years," Manning said.
"But we are ready to land and ready to start doing science. We are ready to get Curiosity on Mars."
—Edward Weinman