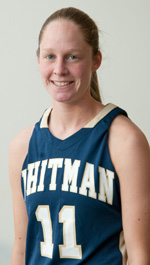 Jenele Peterson '12
Despite having just started her first post-college job, Jenele Peterson '12 is already heading back into the classroom – to learn German.
Peterson, who majored in biology, needs to learn the language so she can talk to her new colleagues: her teammates on BG 74 Göttingen, a second division German basketball team in Göttingen, a university town two hours north of Frankfurt.
"The club and my teammates have made my adjustment to Göttingen very easy," said Peterson, who after signing her contract with BG 74 became the first woman from Whitman to play professional basketball.
"They are all so willing to help me with anything I need as well as show me the city and everything it has to offer. I'm learning German to better communicate with them and the community."
Peterson was a star player for the Lady Missionaries. While at Whitman, the multi-talented 5-foot-7 point guard started every game she played. She's the fourth all-time career scorer and is second in career assists. Peterson was named to the All-Northwest Conference First Team in both her junior and senior seasons.
Becoming a professional basketball player has its perks, although, in Germany, these perks are different than what U.S. hoop stars enjoy. Peterson jokes that now she has her first-ever smart phone, and after she arrived at BG 74, the club gave her a bicycle.

"Göttingen is a huge university city and everyone bikes. BG 74 gave me a bike, so I can bike to practices and workouts," Peterson said.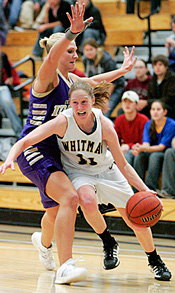 While Peterson is a basketball wunderkind, she was also a stellar student who was highly focused on her life outside of the gym. She chose Whitman because of its prestigious academic reputation.
"Whitman was able to offer me both the rigorous academic challenges that I was looking for, as well as a very competitive and successful basketball program. I knew Whitman was very strong in the biology department because my older brother, Michael Peterson '05, also attended Whitman and played varsity basketball while majoring in biology and environmental sciences," Peterson said.
Having a strong biology department was important because Peterson knew she couldn't play basketball forever. After achieving academic success at Whitman, she was accepted into Washington University's graduate school of physical therapy. The program is ranked No. 2 in the nation.
Before continuing with her studies, though, she decided to follow her dream.
"I didn't want my love for basketball to end. So I deferred my admission, because I wanted to challenge myself to play at the next level. I was lucky enough to have an opportunity to play overseas, and I couldn't be more excited for this challenge."

Starting a new career is a challenge. But when that career takes you abroad where you must adjust to a different culture while plying your trade it's that much more difficult.
Michelle Ferenz, head coach for Whitman's women's basketball team, is convinced Peterson will be successful both as a hoopster and in whatever career she pursues after she hangs up her sneakers.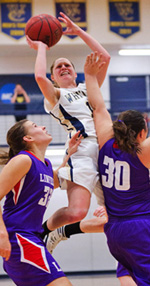 "Jenele is one of the smartest players we have ever had at Whitman," Ferenz said. "She epitomizes the best of Whitman student-athletes. She is truly passionate about her sport and her studies and works hard at both. That is why she will be a success regardless of the venue."
Peterson said Whitman prepared her to be successful on and off the court.
"Having to balance both basketball and academics really helped me learn how to maximize my time and prioritize my life in order to accomplish my goals," Peterson said.
"Whitman allowed me to strive academically and athletically and gave me the resources, opportunities and confidence to reach these goals."
Her immediate goal is to help BG 74 win promotion to Germany's top basketball division. Peterson starts this quest in September with the start of the new season.
—Edward Weinman