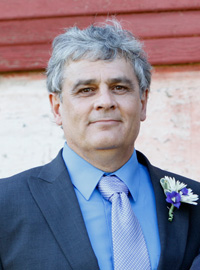 In baseball, it's the walk-off home run. Basketball, it's the buzzer-beater, half-court shot. Soccer, the impossible-but-it-happened, last-second goal.
If you're on the losing side of those moments, it's stunning, crushing, even momentarily paralyzing.
That's how it was for members of the Whitman community when the news came that Dave Holden, longtime sports information director – an all-around wonderful human being and family man – had suffered a fatal heart attack on Aug. 3, 2012.
We lost, big time.
When Holden joined the Whitman College staff as a news services officer in 1989, he found what he called the perfect job. It got even better for him – and the college – in 1994. That year he was given the opportunity of combining his news writing, story-telling and media relations skills with his passion for sports by taking on the college's sports information responsibilities. And it got better yet in 2006, when Whitman made the sports information director position full-time. Holden filled the position brilliantly, devoting himself to telling the stories of student athletes whether or not their athletic performances led to victories and championships.
Prior to Whitman, he was an editor, journalist and photographer for the Milton-Freewater Valley Herald, Walla Walla Union-Bulletin and the Hermiston Herald and later served as a marketing and public relations officer for a hospital. He graduated from the University of Washington with a double-major in journalism and political science, and through the course of his journalism career earned 20 reporting, editorial and photography awards in state and national competitions.
In addition to his love of sports – especially baseball – Holden was known for his quiet yet intelligently comedic sense of humor, wonderful writing style and thoughtful story-telling abilities. He filled his office with mementos and memorabilia reflective of baseball and journalism that he had collected over many years, including many antique baseball gloves and a typewriter. His family and office colleagues also would say that he was known for making "incredibly bad coffee," and he accepted the grief they gave him.
On the job, Holden showcased the athletic achievements of hundreds and hundreds of Whitman students over the years, writing about them, placing stories in their hometown newspapers and advocating for them to be considered for various honors, awards and recognition. And as dedicated as he was to Whitman and to the student athletes, double that and more to understand that he was first and foremost a family man. He attended nearly ever baseball, soccer, basketball and football game in which any of his three children played.
Holden also had sports interests of his own. The New York Yankees topped his list; he had been a fan since his childhood. And he had an encyclopedic knowledge of American baseball history. In 2008, Holden and wife Janice travelled to New York City to visit the original Yankee Stadium during its final year.
But it wasn't all family, sports and Whitman. Holden also was a U.S. military historian with a particular interest in World War II. He read tirelessly and was often found watching documentaries or movies on WWII.
Dave Holden was to Whitman what Derek Jeter is to Dave's beloved Yankees – revered, a super-star, excellent in all ways. He was beloved and highly regarded by members of the Whitman community, some of whom share their sentiments:
Dean Snider, athletic director – "Dave loved his work. He loved watching our students compete and loved telling their stories. A better man I do not know. He will be greatly missed… incalculably so."
Michelle Ferenz, head women's basketball coach – "Dave became one of my dearest friends and closest confidantes in the office. We talked sports and teams (especially about mine and the many challenges of coaching women), but a lot of the time we talked family. I always felt honored that Dave seemed so honestly interested in my kids and what they were up to."

Jeff Northam, men's tennis coach – "I can think of no one who had a bigger impact on the lives of Whitman athletes than Dave. He will be sorely missed."
Michele Hanford, fitness facilities director – "Dave had a super-dry sense of humor but would get to laughing with you over jokes and his shoulders would shake up and down and you always went away feeling like you shared something pretty fun together."
Dona LaFran, Penrose Library administrative assistant – "Dave, you befriended me when I was new at Whitman and I was always glad to see you around campus and at Penrose Library. You are gone from us too soon. My heart is heavy. I will always remember you."
A moving service
Whitman College joined the Holden family in a memorial service held Tuesday, Aug. 7 at Walla Walla's Borleske Field, beginning at the traditional baseball start time of 7:05 p.m. The family brought numerous pieces from Holden's sizable baseball memorabilia collection, including the centerpiece framed photo of Joe DiMaggio and several Yankees pennants.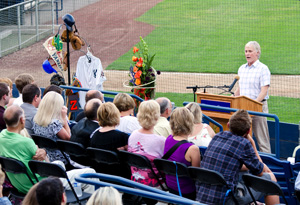 The Borleske Field baseball diamond provided an idyllic backdrop for the service, over which Rev. Adam Kirtley, Whitman's Stuart Coordinator of Religious and Spiritual Life, presided. Speakers included Dean Snider, Whitman athletic director; Earl Holden, brother; Jay Babbitt, colleague and friend; and George Bridges, Whitman College president. Son Dusty shared his memories, and Kirtley read reflections written by son Adam and daughter Emily. Among key comments:
Adam Kirtley welcomed attendees, saying "Unquestionably, this is a deeply sad and in many ways confused gathering. Yet, in the midst of our grief, we are invited to reflect with joy upon Dave's life…his life with his family and friends in Milton Freewater, at Whitman College, and on any baseball diamond he could find."
He continued: "Let this be a time to consider our own sense of loss. Let this be a time to bare the pain of those around us and to hold them up. And a time to reflect upon our deepest compassion for Dave's family and friends, those gathered here, and those grieving elsewhere. This is also a time however, to sit with gratitude for a life so well lived, in gratitude for this husband, this father this brother, this friend."
Kirtley characterized Holden as a man of "great compassion, kindness, wit, humility and work ethic," and he quipped: "If you didn't think he was funny, you probably were not paying attention."
Dean Snider reminded participants how much Holden loved his work and just how good he was at it. "Win or lose, Dave found a way, through his written words, to honor our students, their efforts and achievements. In doing so, Dave made a difference in our students' lives." Snider also shared some of the comments he had received from students, who appreciated Holden's devotion to them but also knew of and admired Holden's love of family.
Earl Holden combined his own words with those of his brother, sharing that it was Dave who had written eulogies for other family members but refused to read them at the services, handing that responsibility to his big brother.
"Our collective hearts have been broken and we can't believe Dave is gone," Earl said. "I want him to make me laugh once more and then again." Earl also shared several of Dave's Facebook postings, saying, "As you will hear, he had already written much of what I want to say about him, and he was able to make me laugh once more…" Among the Facebook posts he shared: "Heading to Egypt to be in Mubarak's new government."
Jay Babbitt, friend and colleague, said "I tried to write what I wanted to say tonight, but I needed Dave's help." As a Whitman student, Babbit had worked for Holden. He shared memories of learning from him and how Dave waited until just the right time to critique and correct his work. "He said, 'here's what we do at Whitman. We make people look good. It's not we lost the game, it's we fell short by only two runs.'" He closed his comments saying "Life, like baseball, is played without a time clock."
President Bridges expressed condolences to the family on behalf of the entire Whitman community. "Many of us devote our lives to inspiring the minds of talented young men and women. Yet considering Dave's example, I believe he would exhort us to do even more. I believe he would ask us to inspire not only our students' minds with big ideas, but also to praise their accomplishments and to enthusiastically tell their stories of success. This is the legacy Dave Holden leaves all of us at Whitman College, and with his life as an example, it is a hope to which we all can and should aspire."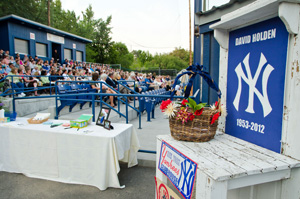 Daughter Emily shared that her dad "gave us the confidence to chase our dreams." She said he never missed a thing, in spite of working long hours and recalled him adding unwritten lines to the story books he read to her as a child. And she recalled her das using the "dashing" good looks of Yankees shortstop Derek Jeter to "sucker me in" to his love of baseball. "But, my dad was doing more than inviting me into his hobby. He was helping me to pick a true role model, a hero worth respecting. He was teaching me that in sports and in life, those who work hard every day and fight for their team and their goals will be successful. He was teaching me that living and working with class and respect will result in the best kinds of rewards. And most of all, he was creating opportunities to spend time with his children."
Son Dusty called his dad "my best friend; someone I could go to with anything," and he cherished the role that sports played in their father/son/friend relationship. His first published opinion piece was about the family's trip to a Mariner's game.
Son Adam reminded attendees that his dad "lived in the moment and lived for others. Part of him lives on through all of us."
Fittingly, "Take Me Out to the Ballgame" aired on the stadium sound system as attendees filed out of the service.
Memorial gifts should be directed to the Blue Mountain Babe Ruth Baseball Improvement Fund, for construction costs of a new baseball field. Send donations to Bruce Mason at 54055 Summers Lane, Milton-Freewater, OR 97862.
Click HERE to see photo gallery provided by the Holden family.
By Ruth Wardwell
wardwers@whitman.edu
###