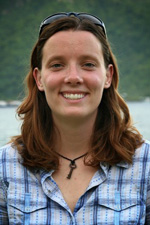 Liz Smith '02
Liz Smith '02 feels like Forrest Gump.
The former astronomy major credits happy accidents for enabling her to have "tumbled" upon thrilling job after thrilling job since graduating from Whitman.
Smith worked for NASA producing documentaries on astrophysics. When she grew tired of the "space stuff," she lucked on to an expedition funded by Gateway computers billionaire Ted Waitt to search the Pacific Ocean for Amelia Earhart's missing plane. She has also explored 2,000-year-old Greek and Roman shipwrecks off the coast of Albania.
This July 1 through Sept. 1, Smith will sail off the coasts of Turkey and Cyprus aboard E/V Nautilus, a 212‐foot research vessel equipped with state‐of‐the‐art exploration technology, looking for the secrets hidden beneath the Mediterranean and Black Sea.
The Ocean Exploration Trust's Exploration Vessel Nautilus is a 64.23 meter (212 foot) ship presently home ported in Bodrum, Turkey.
Photos courtesy of Ocean Exploration Trust.
Smith is a modern-day explorer who thrives out at sea.
"I'm in love with being out at sea," said Smith, who now works as a communications coordinator for Nautilus, part of the Ocean Exploration Trust, which is headlining her upcoming expedition.
"The stars at night are everywhere. There's no light pollution. You sit on the bow of the ship and the sea rocks you, and you stare at the stars. It's incredible. It addicted me to going out to sea."
Smith didn't plan on a career in science communication. However, she credits her time at Whitman for guiding her towards an interest she didn't know she had.
"For a History of Rock and Roll course (I love Whitman because you can take a physics class and also a class like History of Rock and Roll), I shot a documentary on a campus band. At Whitman, I had also built an astronomy for dummies website and I wrote an astronomy column for the Pioneer.
"My astronomy professor, Andrea Dobson, noticed I had a knack for telling stories, and I had fantastic advisers who felt I might be happier doing science communications. They pointed me toward an MFA program at Montana State in science and natural history filmmaking. I was like, 'Oh, that's it.'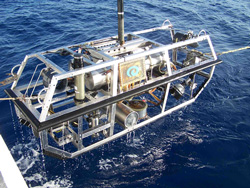 Argus is an ROV, but not a typical one. Argus is a heavy vehicle, 4,000 lbs in air, that dangles on the end of a steel cable, and supports High Definition video and powerful lights. Argus can be operated to a depth of 6,000 meters, but its maneuvering capabilities are limited, so it follows the movements of Nautilus.
"Whitman nurtured the creative scientist in me."
Smith's past is prologue to her current job where she oversees the communications of the various organizations combining to form the OET expedition to explore the Black Sea, Aegean Sea and Mediterranean Sea. Her job is to tell the story of Nautilus's expedition.
"This expedition is pure exploration," Smith said. "We're not searching for anything specific. What's really cool about Nautilus is that we're going down there to see what's there. Hopefully we'll be surprised."
Dr. Katherine Croff Bell and Dr. Robert Ballard, who in 1985 discovered the wreck of the Titanic, will head the expedition along with a team of more than 100 scientists, engineers and educators using a fleet of Remotely Operated Underwater Vehicles, or ROVs, "to map the geological, biological, archaeological and chemical aspects of these regions to depths of approximately 2,000 meters."
Whatever discoveries Ballard's team makes will be transmitted via satellite to the Inner Space Center, located at the University of Rhode Island Graduate School of Oceanography, where Ballard is a professor of oceanography.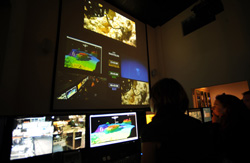 The Inner Space Center is connected to the Nautilus and its remotely operated vehicle (ROV) systems that are exploring the depths of the world's ocean. The Mission Control room is available for teams of scientists and engineers to communicate with their counterparts at sea, so they can be a part of the science and monitor the technical systems in real time.
"From this 'mission control,' our live feeds will be broadcast on the Web, so that anyone in the world can be a part of the explorations as it happens," Smith said, pointing out that cameras will be mounted all over the ship so those people following the expedition on the Web will be able to hear and see the crew's activities.
"The live feed is to make everyone following at home an explorer. We have an incredible crew of folks who can serve as role models for the next generation of explorers. This idea comes from Robert Ballard. It's his vision for Nautilus – you can all be explorers. Which I think is really cool."
While Smith is devoted to communicating the crew's story in order to inspire the next generation of explorers, it's life on the boat that draws her to these months-long journeys out at sea. She is on the water so often she doesn't have her own apartment, bunks with family and friends when on land and has all her "stuff" packed away in storage. Sea-life is too alluring for her to settle down.
"Boat life is awesome. You get away from the madness. It's sort of like going to camp.
You form this little community. You all have each other's backs. You meet all these people you don't know but by day 10 you're like best friends."
Nautilus sets sail July 1 through Sept. 1. Live feeds start July 7. For more information on the expedition, log on to http://www.facebook.com/nautiluslive