Whitman won "Outstanding Delegation" and two students received "Distinguished Delegate" awards at this year's Northwest Model United Nations Conference, despite being the smallest team present. The conference was held in mid-November at the University of Washington in Seattle.
Model U.N. is a club activity in which students apply critical thinking skills to issues of international relations and current affairs. Conferences simulate real U.N. parliamentary procedure, and delegates role-play as diplomats from various nations. The Whitman delegation, made up of only eight mostly first-year students, represented Nigeria and Turkey.
"Model U.N. is a really helpful learning experience," said Anne Gaskins '14, a French major from Redmond, Wash. "You get to travel, network, hear interesting speakers, learn how to speak in public and work collaboratively."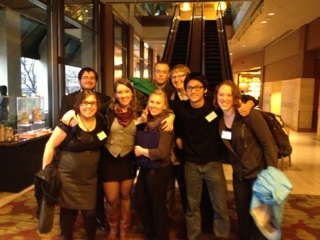 Whitman students at the Northwest Model United Nations Conference in Seattle. Top row: Colin Oglvie '16,Will Ryan '16, Kyle Hendrix '16; bottom row: Arden Robinette '16, Katy Wills '16, Annie Sirski '15, Nick Hochfeld '16, Anne Gaskins '14.
Gaskins and co-president Jane Carmody '14, a politics major from Albuquerque, NM, led their team to victory against competition from much larger schools, including University of Washington, Western Washington University and University of British Columbia.
"Model U.N. gives us the chance to get a global perspective on things," said Katy Wills '16 of Beaverton, Ore. "The opportunity to go to conferences, meet people from different backgrounds and immerse ourselves in other cultures just adds to the Whitman experience."
Wills, a first year, won Distinguished Delegate at the conference for representing Nigeria before the UNESCO Executive Board. Annie Sirski '15, a politics major from Mt. Baldy, Calif., won for her work on the General Assembly.
Model U.N. in its current form is still a relatively new club at Whitman. ASWC President Kayvon Behroozian '14 and Olivia Ware '13 restarted it last year after a temporary hiatus. Behroozian, who served as club president for two years, also implemented new training procedures to help prepare members for national conferences.
"I am so proud of the team's success this year, especially given that we are such a new club," Behroozian said.
The team hopes to attend future conferences at Harvard as well as in Washington D.C. and Los Angeles.