From left: Abbey McGrath '12, Colleen Bell '14 and Katie Miller '12 spend the summer working with the Burmese Women's Union in Thailand.
By Colleen Bell '14
I'm in Thailand interning with Burmese Women's Union (BWU), a grassroots health and human rights organization serving the country's migrant workers and refugee community, most of whom come from Burma.
Working in Thailand is certainly different. Before my eight-week trip, I had never traveled outside of the U.S., other than to Canada. So far I've spent five weeks in Mae Sot and one week in the Mae La Oo refugee camp in Northern Thailand. Mae Sot is a town on the Burmese border filled with "illegal" Burmese refugees and migrants and the Thai people who own the factories and rice paddies where the Burmese migrants work.
Some aspects of my trip have been difficult to adjust to: the squat toilets and cockroaches ever present in my bathroom; the mangy dogs that snarl at me as I run; the mat I sleep on, which I affectionately refer to as a rock; and the diet of rice with fish paste and chilies I eat for every meal.
But some experiences make me feel as though I never want to leave: the neighborhood kids who follow me as I run and constantly swarm the BWU office interacting with me despite our language barriers; the "Border Girls" football (soccer) league I joined, which is made up of an eclectic bunch of expats and refugees; and the BWU women with whom I live and work.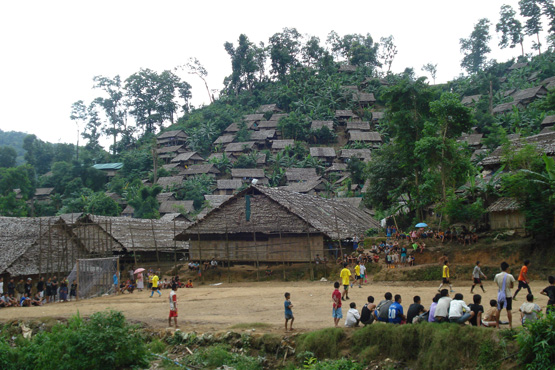 Children play soccer in the Thai refugee camp of Mae La Oo.

I came to Thailand with Abbey McGrath '12 and Katie Miller '12 for a GROW (Grass Roots Onsite Work) internship. The GROW internship is one of the programs affiliated with our GlobeMed chapter, which I founded this past year at Whitman.
GlobeMed is a national non-profit organization headquartered at Northwestern University. Its mission is to promote global health equity. GlobeMed has a network of university students at campuses around the U.S., each paired with a different grassroots health partner in Africa, Central or South America, Southeast Asia, and even the U.S.
This past school year, Whitman's chapter raised $3,776 in support of two different projects for BWU. The first is a reproductive health-training program that provides day-long comprehensive health classes for migrant women who work in the factories and farms around Mae Sot. It also provides contraception for married women trying to space out their pregnancies or limit the number of children that they support on low wages.

During our first health-training session, I was struck by the many women and girls (mostly girls), who had never before received information on female reproduction. The training was similar to the content of my 9th grade health class at a public high school in Minnesota, and covered menstruation, contraception, pregnancy, and HIV/STDs. This type of information is not taught in Burma, and one married woman told us that she had not known how women got pregnant or that such a thing as condoms existed before encountering BWU.

As part of our project, we traveled to a rural village via motorbike with the BWU medic to distribute birth control supplies. Because some of the women's husbands do not approve of them using birth control, these women need the depo provera shot, which is given once every three months and is discreet. The women receiving this type of birth control lay down one at a time to get the shot into their buttocks as the waiting women breastfed their children, and we made sure to keep the toddlers away from the used needles.
Family planning out in the field is certainly not glamorous.
The second project we worked on will fund, for six months, a BWU-operated nursery school in the Mae La Oo refugee camp. The school has 30 kids and three teachers, and the funding provides a small stipend for the teachers, other operating expenses, and lunches for the kids. The lunches are a critical part of the project, as many families struggle to find enough food.

When we visited the Mae La Oo refugee camp and the nursery we heard personal stories from women that before this trip I might have thought impossible to believe. One woman fled Burma with her husband after their village was burned down. She was pregnant at the time, and wound up giving birth in a jungle, under a tree. While she shed light on her experience by joking about how her children had asked what village they came from and she told them they did not have one, I sat in shock and tried not to cry.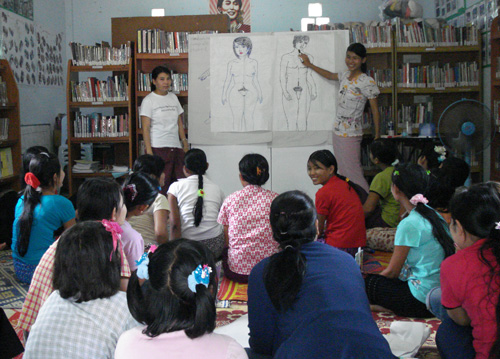 Local women attend a reproductive health training class offered by BWU.

The kids in the nursery that Whitman's GlobeMed chapter funds are adorable and incredibly well-behaved (for the most part, anyway). The camp is a long-term situation for most families as they wait months on end to be approved for relocation, so providing them with access to childcare and basic education is essential.

My trip has made me think deeply about all of the opportunities afforded me, including stability (both economic and geographic), access to education and health care, knowledge about how my body works, and the freedom to make decisions for myself.
I am majoring in biology and plan on pursuing a combined M.D./MPH (Master's In Public Health) degree. I'm determined to use my education, and this experience in Thailand, as a springboard to further GlobeMed's mission of global health equity.

But as I live among the Burmese refugees, people who have long suffered human rights abuses at the hands of their military government, I think of the starfish effect from an original story by Loren Eisley, the American anthropologist, educator, philosopher, and natural science writer.
As the story goes (the version of which my father reminded me), a young boy walking down a beach picks up stranded starfish and throws them back into the sea. A man approaches and asks the boy what he's doing. "There are miles of beaches and hundreds of starfish. You can't possibly make a difference!" the man tells the boy. The boy picks up another starfish, throws it back into the sea, and replies, "I made a difference for that one."
ABOUT THE AUTHOR: Colleen Bell '14 is a biology major from St. Louis Park, Minn. After Whitman, she hopes to pursue a medical degree.