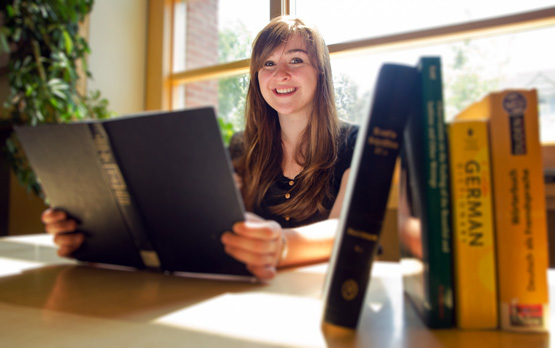 By Karah Kemmerly '14
I have a confession: I own four German dictionaries. That's not even counting the online dictionaries and databases bookmarked on my computer. These aren't grammar textbooks for class, either. No, these are four tangible, on-the-shelf, just-looking-up-words dictionaries.
Sometimes people come over and look at my book collection, raise an eyebrow once or twice, then pluck a dictionary off the shelf and ask, "How many of these do you need?"
The answer to that question is, of course, "At least one more. I don't have an etymological dictionary yet." But usually I just shrug and smile.
Each of my dictionaries holds sentimental value for me (memories of old teachers, of favorite bookstores, of Christmas mornings), but I didn't necessarily have a purpose for so many until a few months ago when philosophy professor Patrick Frierson contacted me about partnering for a Perry Summer Research Grant. Perry grants provide funding for student-faculty researchers to team up for in-depth projects during the summer. Professor Frierson asked my fellow German-speaking student, Luke Rodriguez '14, and me if we would like to work on a translation project with him. We both accepted.
My dictionary obsession aside, saying yes to translation was easy for me. I couldn't think of another summer job that would offer the same intellectual challenge and independent work schedule as this project. And not once while sitting in my sauna of a living room and comparing verbs have I wished I were working at the local movie theater scooping out day-old popcorn for a group of teenagers, even if it meant air conditioning.
On paper, our project sounds straight-forward: take the original version of German philosopher Johann Gottfried von Herder's notes on Kant's "Lectures on Ethics" and make them readable in English. In practice it's far more complicated. Sometimes finding a good translation requires consulting four or five different sources. Sometimes common spellings of words have been changed with the evolution of the language, and you have to go digging in the Grimm, a German language dictionary compiled by Jacob Grimm in the mid-1800s, to find out exactly what Herder means.
And sometimes even when you do find out what the words mean, the sentence as a whole is a confusing mess. The process often requires nesting in a pile of books, consulting many different sources and trying several different phrasings. After Luke and I have come up with our own individual translations, Professor Frierson brings them together into one document and the three of us meet to make additional changes and to discuss areas that still need work. When we've managed to make cohesive sentences, it's like finally solving a code. And it's extremely gratifying.
Warm and fuzzy grammar feelings aside and on a more practical level, receiving a Perry Research Grant has given me the opportunity to gain valuable experience with something that could become a career option for me in the future. And even if I don't become a translator, working with this text has given me more exposure to vocabulary and the nuances of the language. Whether I decide to go to graduate school, teach in Germany, or work in a hostel, I am glad to have had this practice with the language. And to have found a good use for my dictionaries.
ABOUT THE AUTHOR: Karah Kemmerly '14 is a German Studies major, English minor from Yuba City, Calif. In the fall, she will study abroad in Freiburg, Germany through IES Freiburg.

The following list includes information about all of the Whitman students and faculty members who received Perry Summer Research Grants and the projects they will pursue this summer.
Student
Professor
Project
Paul Cathcart '14
Foreign Languages and Literatures: French major Portland, Ore.
Assistant Professor of Art Michelle Acuff
"Homing: The Inherent Ability of an Animal to Navigate Toward an Original Location Through Unfamiliar Areas"
Michele Evertz '13
Biology-Geology Major
Minneapolis, Minn.
Assistant Professor of Geology Nicholas Bader
Studying Middle to Late Miocene eruptive and climatic history in the Grande Ronde Valley in Northeast Oregon
Marten King '14
History Major
Seattle, Wash.
Associate Professor of Politics Shampa Biswas
"Toward Nuclear Zero: Postcolonialism, Political Economy and the Logic of the Nuclear State"
Peter Mullins '13
Chemistry Major
Lake Oswego, Ore.
Associate Professor of Chemistry Frank Dunnivant
Studying PCB and DDT concentrations in remote alpine lakes in the Pacific Northwest
Michael Putnam '13
Philosophy Major
Portola Valley, Calif.
Visiting Assistant Professor of Religion Courtney Fitzsimmons
"Yearning for God: Religion and the Philosophy of Iris Murdoch"
Kendall Gilmore '14
BBMB Major
Pasco, Wash.
Adjunct Instructor of Biology Nancy Forsthoefel
"Too Much of a Good Thing: Over-expression of the PIRL9 Gene in Arabidopsis Plants"
Luke Rodriguez '14
Math/Physics Major
Portland, Ore.
Associate Professor of Philosophy Patrick Frierson
Translation of Herder's Notes on Kant's "Lectures on Ethics"
Karah Kemmerly '14
German Studies Major
Yuba City, Calif.
Associate Professor of Philosophy Patrick Frierson
Translation of Herder's Notes on Kant's "Lectures on Ethics"
David Friedman '13
Biology Major
Happy Valley, Ore.
Associate Professor of Biology Kendra Golden
Sstudying the tissue-specific immune response of Manduca sexta larvae to E. coli infection in the presence and absence of T4 bacteriophages
Stephanie Steiner '13
Chemistry Major
Yankton, S.D.
Assistant Professor of Chemistry Marion Gotz
Studying bimodal inhibitors for the 20S proteasome as potential therapeutic agents
Tyler Hurlburt '13
Chemistry Major
Walla Walla, Wash.
Visiting Assistant Professor of Chemistry Steven Hughes
Studying cadmium-free semiconductor nanocrystals as phosphors for energy efficient light-emitting diodes (LEDs)
Aleah Jaeger '13
Environmental Studies-Sociology Major
Eugene, Ore.
Assistant Professor of French Jack Iverson
"Pure Laine, Bouchard-Taylor, and the Intercultural Future of Quebec"
Sarah Shaffer '13
Philosophy Major
Portland, Ore.
Assistant Professor of Philosophy Michelle Jenkins
"Virtue and Education in Plato's Republic"
Aaron Rosenbaum '12
Chemistry Major
San Diego, Calif.
Assistant Professor of Chemistry Marcus Juhasz
Studying the development of cyanation methods for 1-carba-closo-dodecaborate (1-)
Whitney Griggs '13
BBMB Major
Morgantown, W. Va.
Assistant Professor of Biology Thomas Knight
"Human Eye-head Coordination during Gaze Shifts in the Natural Environment: Effects of Eye Position and Eye Movement Range"
Bo Erickson '13
English Major
Portland, Ore.
Assistant Professor of English Christopher Leise
"From Seven Generations: A Haudenosaunee (Iroquois) Reader"
Ben Lerchin '13
Art Major
Novato, Calif.
Assistant Professor of Art Justin Lincoln
"Nature as Code: Advanced Study in Generative Systems for Aesthetic Experimentation"
Paul Hamilton-Pennell '13
Philosophy Major
Denver, Colo.
Language Learning Center Coordinator Jennifer Mouat
Doing research towards a retrospective exhibition catalog monograph for Professor James B. Thompson's 2015 show
Morgan Dienst '15
Undeclared Major
Lynnwood, Wash.
Assistant Professor of Chemistry Dalia Rokhsana
Studying computational modeling and biomimetic synthesis of the active site of carbon monoxide dehydrogenase
Carrie Cecil '13 Anthropology Major
Dedham, Mass.
Professor of Anthropology Gary Rollefson
An excavation of mortuary structures at Neolithic-Bronze Age Maitland's Mesa, Jordan
Chelsea Darlington '14
Economics Major
Tacoma, Wash.
Assistant Professor of Economics Lee Sanning
Studying risk characteristics and performance of pilot-managed mutual funds
Kathryn Witmer '14
History Major
Chula Vista, Calif.
Robert Allen Skotheim Chair of History David Schmitz
Studying nationalism and American foreign policy
Evan Kleiner '14
Undeclared Major
Gardnerville, Nev.
Associate Professor of Mathematics Albert Schueller
Researching congressional redistricting using modified Lloyd Iteration
Gabriella Friedman '13
English Major
Milwaukee, Wis.
Associate Professor of French Nicole Simek
Researching the criticism of postcolonial critique
Florence Le Bas '14
Theatre Major
Portland, Ore.
Lecturer of Theatre Robin Waytenick Smasne
Costume design
Cathryn Klusmeier '14
Environmental Humanities/
Philosophy Major
Fayetteville, Ark.
Senior Lecturer of Environmental Humanities Don Snow
"Sustaining Place: The Persistence of the Local in an Era of Globalization"
Caroline Carr '13
Religion Major
Berkeley, Calif.
Associate Professor of Religion Melissa Wilcox
Ongoing research on the Sisters of Perpetual Indulgence
Claire Baron '13
Race & Ethnic Studies Major
Tacoma, Wash.
Assistant Professor of History Jacqueline Woodfork
"From Oralite to the Written Word: The Art and Practice of Codifying Senegalese Oral Histories"
Laetitiah Magara '13
Sociology Major
Nairobi, Kenya
Assistant Professor of History Jacqueline Woodfork
"From Oralite to the Written Word: The Art and Practice of Codifying Senegalese Oral Histories"
Lacy Clark '13
French Major
Eugene, Ore.
Associate Professor of French Zahi Zalloua
"'Ideology is not all': Criticism after Zizek"