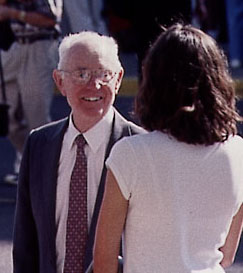 Announcement from President George Bridges:
On Jan. 1, 2012, our colleague and dear friend, George Ball, passed away at the age of 96. He has served Whitman College as a professor of religion and mentor to students since 1960. An anchor on campus and in our community, George was a standard-bearer for ethics and justice, a beloved and exceptional teacher of and adviser to generations of Whitman students, and an extraordinarily decent and caring person.
As news about his memorial service becomes available, I will keep you informed. I have extended the full support of Whitman College to George's wife, Nancy, and his entire family as they cope with this very difficult loss.