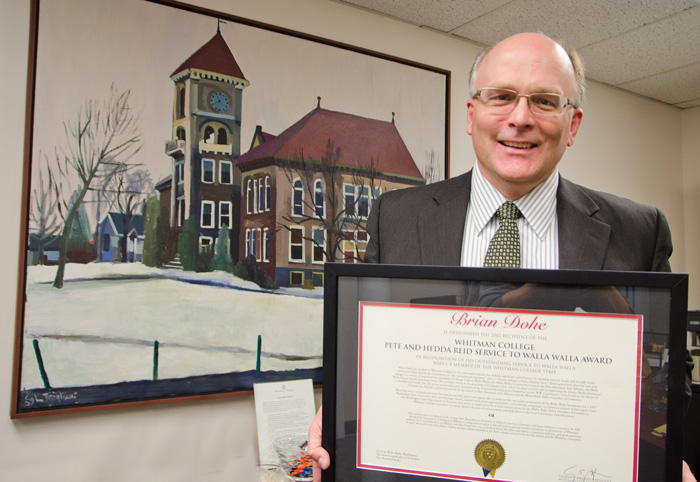 When he was first hired at Whitman, Brian Dohe only intended to work in Walla Walla for five years before returning to Seattle. He's now been a dedicated staff member and community leader for more than 20 years.
Brian Dohe, director of annual giving, is the 2012 recipient of the Pete and Hedda Reid Service to Walla Walla Award, presented Nov. 28 at the Walla Walla Chamber of Commerce Awards Banquet.
Formerly called the Town-Gown Award, it recognizes Whitman staff and faculty who have made significant contributions to the community. The award is presented jointly by Whitman and the Chamber and comes with a $1,000 stipend.
Multiple members of the Whitman community contributed to nominating Dohe. Among comments written on his behalf:
"Always a quick smile and positive attitude makes being a colleague of Brian's a privilege. Because he does not talk about what he does for others, one would never know the difference he has made in our community."
"Brian is highly invested in the Walla Walla community and spends personal time and energy in making this a better place to live. His involvement in community service is genuine and heartfelt and Brian enjoys connecting with people and making a difference."
Dohe has worked at Whitman for 21 years, in which time he has served on the fundraising committee for Friends and on the boards of the Blue Mountain Arts Alliance and Walla Walla Valley Chamber of Commerce. Described in his nomination as the "consummate volunteer," Dohe currently serves as president of Exchange Club and chairman of the Financial Development Committee and secretary of the board for the WW Community Council.
Per Whitman tradition, this award was presented in memory of a college staff or faculty member who has passed away – in this case, Dr. George Ball. Dr. Ball founded the religion department at Whitman 41 years ago and was a beloved teacher and mentor to generations of Whitman students. An ordained Methodist minister with a Ph.D. from Yale Divinity School, Dr. Ball was known for delivering flowers to Whitman staff and picking up litter along his bicycle routes across campus. In 2010, his legacy was honored by the creation of the George H. Ball Endowed Chair in the Humanities.
"I counted Dr. Ball as a colleague and mentor from the moment that I arrived in Housing and Residence Life in 1991, and through my time in Annual Giving when we were in adjacent offices," Dohe says. "It deepens the significance of this award to receive it in the year that it's given in memory of Dr. Ball."