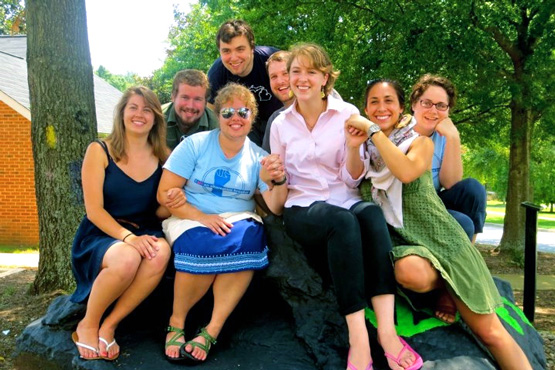 Shannon Morrissey '12 with the Break Away staff at the event "Ensuring Independence for an Aging Population" in Spartanburg, SC.
Whitman alumna lands job at prestigious non-profit
When Shannon Morrissey '12 applied for a summer internship at Break Away, a national non-profit striving to create a network of "lifelong active citizens," she was turned down.
Determined to work for the nonprofit whose mission is to organize alternative break programs that enable college students to engage in intensive community service-learning projects, she refused to take no for an answer. Instead, she applied for the program director position, and after a rigorous interview process she landed the job.
"I thought it was such a shot in the dark," said Morrissey, who majored in sociology and double-minored in gender studies and race and ethnic studies.
"When I got the call offering me the program director position I was in shock for a couple of days."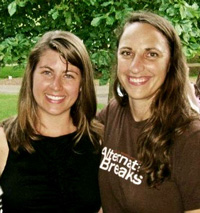 Shannon Morrissey '12 in Spartanburg, SC with Jill Piacitelli, Executive Director of Break Away
As program director for Break Away, Morrissey's task is simple: help turn college students into civic-minded members of society who will weigh in on the important issues that impact their communities.
How does she do this? By persuading students that there's more to life than flocking to Daytona Beach for spring break, and that they should volunteer to help others instead.
Okay. Not so easy. In fact, convincing students to volunteer rather than party and work on their suntans might seem like a daunting task.
However, Morrissey said the alternative breaks she will plan are very popular, especially at a school like Whitman, which has sent students to Portland, Ore., to work on food and hunger issues; to Seattle to help with refugee resettlement programs; and to New Orleans to assist in the rebuilding efforts post-Hurricane Katrina.
"The alternative breaks we organize help students get involved and make small incremental change, and in doing so we can achieve Break Away's vision – creating a society of active citizens."
As program director, Morrissey will travel to different chapter schools around the country, train students how to fund-raise, lead trips and create quality reflections about the experience. Whitman is one of 100 chapter schools associated with the nonprofit.
So how did Morrissey, who couldn't get hired as an intern, become Break Away's program director? Experience.
As a junior, she led a Whitman Break Away trip to the Pomegranate Center in Issaquah, Wash., where the participating students helped the center create gathering spaces in low-income areas to foster connections in the local community.
The following year, she served as a senior intern, planning Whitman's trips, placing participants and overseeing fundraising campaigns.
Most likely Morrissey was seen as overqualified to be an intern, because in addition to working on Break Away projects she also boosted her portfolio by taking advantage of the many experiential learning opportunities Whitman offers.
Her resume "impressed Break Away's executive director," Morrissey said.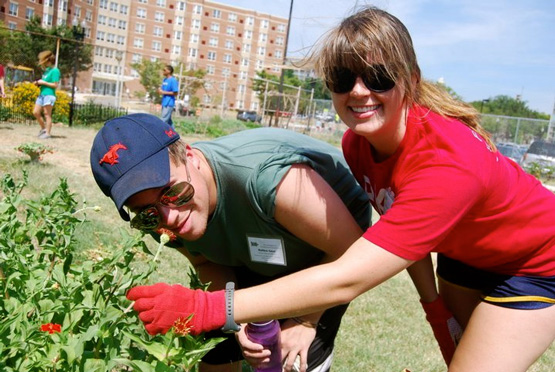 Shannon Morrissey '12 in Washington DC with Matt Gayer, Break Away Programs Assistant
Morrissey credits Whitman for enabling her to build a strong resume but feels the work she did on Whitman Teaches The Movement, a program where Whitman students teamed up with the Southern Poverty Law Center (SPLC) to teach civil rights lessons at Walla Walla public schools, separated her from other applicants.
"I did program evaluations on Whitman Teaches The Movement for the SPLC, which is applicable to Break Away, because Whitman Teaches The Movement gave college students the chance to engage with the community and apply their classroom learning to the community.
"This work is definitely in line with Break Away's model," said Morrissey.
Because Walla Walla is a small town, Morrissey had numerous opportunities to use her classroom experience for community building projects at various nonprofits. For example, she was able to do some grant writing and help directly with fundraising for Friends of Children of Walla Walla.
"It's a small nonprofit – they had only three full-time staff and me – so I was able to have a large impact," she said.
Again, Morrissey credits Whitman for providing her with numerous volunteer opportunities. In fact, she said many of the jobs she held while at Whitman she found through the Student Engagement Center.
"Whitman does not encourage students to simply fill their resumes with lots of activities," said Noah Leavitt, assistant dean for student engagement. "Rather, we work with students to help them understand how their experiential learning endeavors help them gain transferable – and in many cases – highly sought-after skill sets.
"Shannon is just one example where we can see how 'all' of Whitman works together to create amazing and talented students who are able to successfully compete for nationally significant positions like this one."
Break Away is a nonprofit of national importance. And Morrissey is excited to work there because helping to bring about social change is one of her priorities, and she believes many college students feel the same way.
"The first step is to become aware of systemic social issues," she said. "Once you confront a problem, you have no choice but to do something about it. If you educate people as to why problems happen, they will be galvanized to create change."
—Edward Weinman