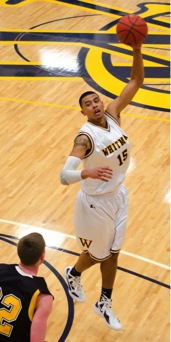 David Michaels '12
was named All-American in his senior year
In signing his contract on August 7, recent Whitman graduate David Michaels joined teammate Juan Pablo Alvarez as the second player from the Class of 2012 to become a professional basketball player. Michaels—who put his stamp on one of the finest seasons in the history of the Whitman Men's Basketball program during his senior year—inked his agreement with Aris Leeuwarden in Holland, while Alvarez signed this past May with Importadora Alvarado, in his native Ecuador.
Michaels' signing comes on the heels of a spring that saw him collect a bevy of awards in recognition of an astonishing senior season. After averaging just under 8 points and 4 rebounds per game through his first three seasons, Michaels racked up Northwest Conference MVP and All-American Honors after averaging over 20 points per game on just under 11 shot attempts. His performance drew the attention of professional scouts, and landed him a spot at the Portsmouth Invitational, a professional tryout for the top 64 seniors in all of college basketball in front of all 30 NBA franchises. Following his showing at Portsmouth, Michaels signed with Pro-One Sports Management and began evaluating a number of professional offers.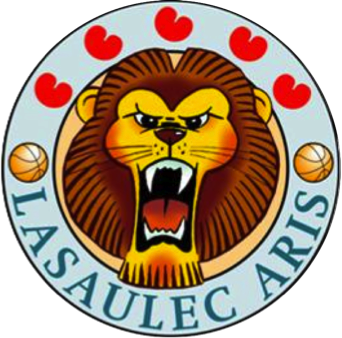 Aris Leeuwarden signed Whitman grad David Michaels
With a variety of options on the table, the level of competition was a critical factor in Michaels decision "I chose Aris because I felt it was the best option for me to play and develop", he said.
"We think David will be a great asset to our team—we think he can be very good", said Gert Shurer, General Manager of Aris Leeuwarden. "David fits perfectly for the plans we have for the coming season. He must help us win games, and knows what is needed to accomplish this. "
Aris Leeuwarden is a top-division team in the Netherlands, and competes in what is considered to be a Top-15 league in Europe. Michaels will be one of the few former small-college players to play at that level this season, and likely will be the only rookie player from an NCAA Division III school to play in a top-division league in Europe.
Michaels' remarkable senior season was keyed by a voracious work ethic that led him to completely overhaul and improve virtually every aspect of his game: A career 24% 3-point shooter, Michaels shot 47% in his senior season.
"David's rise in his final 15 months at Whitman was remarkable, but it was never a mystery as to how he did it", said Whitman Head Coach Eric Bridgeland. David's '2-Feet In' approach, not only on the floor, but in the classroom and in the community, will serve him for life."
Aris Leeuwarden, like many professional teams in Europe, has a limit on how many 'imports' (foreign players) they can sign to their roster, so Michaels' selection puts him in a position to play a significant role right away. "[We expect] David will make an immediate impact", said Schurer. "David knows what is needed to win games. Not only scoring points and getting rebounds, but also doing the little things on the court that win. David is basketball minded and a pro off the court too. We think he can be very good."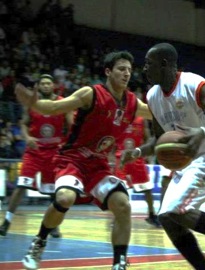 JP Alvarez '12
in action for Importadora Alvarado
Alvarez, who like Michaels arrived at Whitman in the fall of 2008, played limited minutes over his four years. Nevertheless, the substantial development of his game became apparent in late May, when he signed his contract with Importadora Alvarado.
"It feels great to do something that you love and get paid for it", he said. "I always wanted to do this for a living, and it is a blessing that I'm able to play basketball after college."
After roughly two months of games, Alvarez is averaging nearly 10 points per game, and has emerged as a top defensive player on his team.
"JP came to Whitman with the goals of graduating with a nationally elite degree, and having the chance to play professional basketball", said Bridgeland. "He's succeeded brilliantly on both counts. He was the top student in our program for all four years, and his coaches and teammates know that he poured his heart into Whitman Basketball. It is no surprise to anyone who knows him that JP is off to a fast start after graduating. He has a bright future and professional career ahead of him."
In addition to his duties with his professional team, Alvarez also recently received admission and a substantial scholarship from the European University Miguel de Cervantes in Spain. Through a distance learning program, he will be pursuing his Masters degree in Physical Activity: Sports Training and Management.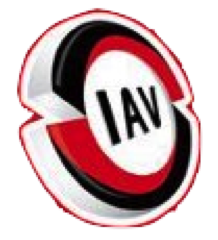 Importadora Alvarado signed Whitman grad JP Alvarez
"My experience at Whitman has been crucial to where I am in my life right now", said Alvarez. "Not only did I get the best possible training for basketball, but I also learned how to manage playing while studying at very tough academic institution. Whitman pushed me to be better in all aspects of my life: basketball, school, and even socially."
When Michaels and Alvarez first arrived at Whitman, the program was coming off of a season that garnered only 5 wins. They left having guided the program to the best back-to-back seasons in school history during their final two years.
"At Whitman, I have been through some of the lowest valleys and highest peaks one could ever think of (on and off the floor), and I believe that these experiences are exactly what got me to this point", said Michaels. "I finally realized that it had nothing to do with how I failed, but rather what I personally did to improve on those mistakes on a daily basis. This perspective has allowed me to adapt and evolve over time. Without all of my failures, I would not know how to succeed."