When it comes to seeking out opportunities, Zach Duffy '12 says he has a habit of applying for everything: "Most don't pan out. That's just the nature of the fellowships world."
But one certainly did, in a big way.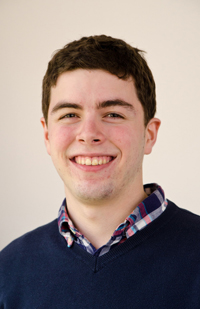 Zach Duffy '12
won the Watson for his project, "Recovering a Lost Generation: How Nations Help Unemployed Youth into the Workforce."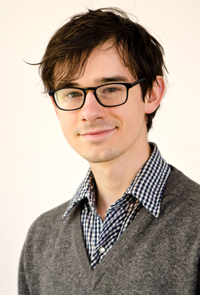 Sam Alden '12
was selected as an alternate for his project, "Drawing from Life: Comics as Personal Medium."
A politics major from New York City, Duffy was back home interviewing for another position when he found out he had been selected as a 2012 recipient of the prestigious Thomas J. Watson Fellowship, which will enable him to travel around the world with stops in seven different countries to explore solutions to youth unemployment. Sam Alden '12, a studio art major from Portland, Ore., was selected as an alternate.
"When I found out about the Watson, I was honestly shocked," Duffy said. "There are so many qualified people out there and all of them are deserving of awards."
The title of Duffy's project is "Recovering a Lost Generation: How Nations Help Unemployed Youth into the Workforce." He plans to spend the next 12 months visiting Japan, China, Thailand, Singapore, Switzerland, Germany and the U.K., interviewing government officials and learning about social programs.
"If the threat of youth unemployment facing the United States is grave, so are the similar problems of nations around the world," Duffy wrote in his project proposal. "The global nature of the economic crisis offers up the world as a laboratory in which all countries are figuring out how to deal with the same issue. Some experiments are surely proceeding more successfully than others; I want to know which ones and why."
Keith Raether, director of fellowships and grants, worked closely with Duffy on the application process and describes him as a great candidate who is now a happy recipient.
"Zach was engaged in his youth unemployment project before he was even employable," Raether said.
Duffy's fellowships record at Whitman is exemplary. He was a Roosevelt Fellow and a DMI Scholar in his sophomore year, and Truman finalist last year. He says that applying for the Truman Scholarship, a merit-based public service award, really crystalized his determination to apply for the Watson.
"The questions on that application were incredibly demanding," he said. "I had to map out a 10-year plan of pretty much everything that I wanted to do with my life. Even though I didn't end up winning the award, the process gave me a lot of clarity. I care a lot about labor politics and the issues affecting people my age. My Watson application naturally grew out of that realization."
Since the establishment of the Watson Fellowship in 1968, Whitman has produced 40 recipients, including Duffy, and two alternates, including Alden, who submitted a proposal for his project "Drawing from Life: Comics as a Personal Medium."
Raether characterizes the competition for Watsons as "insane but invaluable," and even more so since the foundation reduced its number of recipients from 60 to 50 and then to 40 for the past three years. Only 40 schools in the nation are invited to nominate students for Watsons.
"The Watson Fellowship is extraordinarily competitive," Raether said. "Zach's and Sam's achievements are remarkable – but not surprising. Four years ago, Sam and all of the Watson alternates this year would have been recipients."
Duffy has compiled an impressive resume – he serves as Senior Admission Intern, ASWC senator, and earlier this year testified before the legislature as part of Whitman's State of the State for Washington Latinos course – and says he is grateful to Whitman for his success.
"I felt great about my decision to come to Whitman four years ago, and it's a real testament to the quality of my education that I feel the same enthusiasm for this college now," he said. "I've only been able to achieve what I have because professors and staff here have been my mentors and advocates."
Duffy follows in the footsteps of former Watson recipients Ross Eustis '11, Nadim Damluji '10 and Seth Bergeson '10 and Aisha Fukushima '09.
–Gillian Frew '11
Below is the most current list of Whitman fellowship, scholarship and grant recipients for the 2011-12 academic year. This list will be updated as more results become available.

Fellowships, Scholarships and Grants: Academic Year 2011-12
Information as of 6.18.12
Watson Fellowship
Zach Duffy '12 ("Recovering A Lost Generation: How Nations Help Unemployed Youth Into The Workforce," independent travel and study in Japan, China, Thailand, Singapore, Switzerland, Germany, United Kingdom)
Sam Alden '12 (alternate, "Drawing from Life: Comics as a Personal Medium," independent study and travel in Japan, Belgium, Brazil)
Fulbright U.S. Student Program
Tricia Vanderbilt '12 (India, English teaching assistantship, India)
Alex Miller '10 (research, Nepal)
Kayla Foster '12 ( English teaching assistantship, Germany)
Matt Hanson '12 (research, New Zealand)
Mackenzie Gerringer '12 (English teaching assistantship, Germany)
Jessica Salvador '07 (English teaching assistantship, Turkey)
Seth Bergeson '10 (English teaching assistantship, Bosnia-Herzgovina)
Stefan Wheat '12 (alternate, Panama, research)
Sara Rasmussen '12 (alternate, Germany, English teaching assistantship)


Cara Lowry '12 (national finalist)
Alice Minor '12 (national finalist)
Lindsay Olson '12 (national finalist)
Beinecke Scholarship
Goldwater Scholarship
Dieter Brandner '13
Nathan Abrams '13 (honorable mention)
Udall Scholarship
Claire Meints '14 (honorable mention)
Rhodes Scholarship
John-Henry Heckendorn '12 (national finalist)
National Science Foundation Graduate Research Program Fellowship
Emily Davis '08 (ecology, University of Washington)
Noah Bronstein '08 (chemistry, University of California, Berkeley)
Kathleen Canfield Compton '08 (geosciences, University of Arizona)
Jessica Fox Bruhn-Johannsen '09 (honorable mention)
Kalani Halemano '08 (honorable mention)
Brett Addis '09 (honorable mention)
Sarah Jennings '07 (honorable mention)
Katherine Lewis '08 (honorable mention)
Ysbrand Nusse '09 (honorable mention)
Julia Schroeder '09 (honorable mention)
DAAD (German Academic Exchange Service)
Caitlin Hardee '12 (InternXchange Program fellow and intern, International Center for Journalism, Freie Universität, Berlin)
Karah Kemmerly '14 (Undergraduate Scholarship, University of Freiburg)
Kevin Dyer '13 (Summer Study Grant, University of Leipzig)
Luce Scholars Program
Samuel Clark '07 (national finalist for 2012-13 award competition)
Lantos/HIA Congressional Fellowship
Seth Bergeson '10 (appointment to office of U.S. Rep. Jim McDermott)
Ford Foundation Fellowship
Aaron Aguilar '12 (honorable mention)
Bosch Foundation Fellowship
Jaimes Valdez '03 (professional development program, Germany)

Princeton in Latin America Fellowship
Josh Meuth Alldredge '11 (communications, Asociacion Pro Arte y Cultura, Bolivia)

Princeton in Africa Fellowship
Thomas Launer '12 (English teaching, Project Mercy, Yetebon, Ethiopia)
Princeton in Asia Fellowship
Hannah Joseph '12 (English teaching assistantship, Nan, Thailand)
Patricia Vanderbilt '12 (finalist, withdrew to accept Fulbright award)
Cara Lowry '12 (finalist, withdrew to accept French Teaching Assistants fellowship)
Mehera Nori '12 (finalist, withdrew to accept other placement in China)
French Teaching Assistants Program (TAPIF)
Cara Lowry '12 (English teaching assistantship, Toulouse)
Laura Euller '12 (English teaching assistantship, Grenoble)
Margaret Wilson-Moses '12 (English teaching assistantship, Guadeloupe)
Evelina Miropolsky '12 (English teaching assistantship, Amiens)
Spanish Teaching Assistants Program (NALCAS)
Stefan DuBois '12 (English teaching assistantship, Badajoz)
Charlotte Scott '12 (English teaching assistantship, Murcia)
Sitka Fellows Program
Sam Alden '12 (Sitka, Alaska)
Camila Thorndike '10 (Sitka, Alaska)
Killam Fellowship (through Fulbright Canada)
Jay Barlow '14 (independent study, University of Alberta)
Summer Undergraduate Research Fellowship (SURF/NIST)
Nathan Abrams '13 (research in Physical Measurement Laboratory, National Institute of Standards and Technology, Gaithersburg, Md.)
Roosevelt Institute Fellowship
Ahren Stroming '14 (Chicago institute)
DMI Scholars Program
Sean Mulloy '14 (summer policy institute, New York)
Jane Carmody '14 (finalist)
Kroc Fellowship
Molly Smith '11 (alternate, national public radio training program at NPR and member stations)
Emerson Hunger Fellowship
Seth Dawson '12 (first alternate)
Hannah Johnson '12 (national finalist)
Coro Fellows Program
Carissa Klarich '05 (alternate)
Emma O'Rourke-Powell '12 (alternate)
Lyndsey Wilson '12 (national finalist, withdrew for other considerations)
City Hall Fellows Program
Ari Frink '11 (San Francisco)
Davis Projects for Peace
Jeremy Norden '12 ("Building Community and Ultimate Peace," Colombia)
El Pomar Fellowship
Lyndsey Wilson '12 (national finalist)
Joanna French '12 (national finalist)
Villers Fellowship
Abbye Neel '12 (national finalist)

TEACH Charlotte Fellows Program
Elana Congress '12 (training and full-time teaching in Charlotte-Mecklenburg school system)
Barclays-FG Mogae Scholarship
Moabi Garebamono '09 (international finalist)