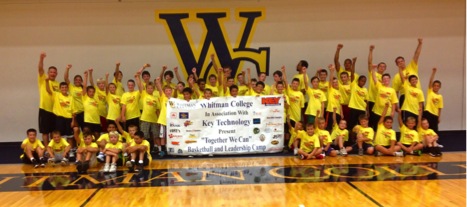 From August 6-9, Sherwood Athletic Center was full-to-bursting, as 61 boys ages 8-14 showed up for the final session of the Whitman College and Key Technology "Together We Can" Leadership and Basketball Camp. What's more, as a result of substantial community sponsorship and support, the registration fee for all campers was waived. The only cost for campers and their families was a $20 administrative fee, which was also waived upon request.
Combined with earlier sessions of "Together We Can" Camp, the total enrollment for the summer was over 130 children, representing a record number of campers who attended free of registration charge. Included in this group were children from the 'Friends of the Children of Walla Walla' program, which works to provide positive mentorship to children from disadvantaged families in Walla Walla.
"The fact that our local business and community leaders have stepped up to make 'Together We Can' Camps available to all families in Walla Walla speaks volumes for the character of our city", said Head Men's Basketball Coach Eric Bridgeland. "With Key Technology leading the way, our community made sure that every family had an opportunity to send their child to camp, regardless of socio-economic background. This is nothing short of an extraordinary effort by an exceptional group of sponsors."
In addition to title sponsor Key Technology, other camp sponsors included:
Les Schwab
Hepler's Big Cheese Pizza
Advanced Sign Concepts
T-Walla Walla
Jacobi's Café
Total Office Concepts
Doyle Electric
Tommy's 9th Street Auto
Walla Walla Farmer's Co-Op
Blue Palm Frozen Yogurt
Applebees
Liz Conover - State Farm Insurance
Community Bank
Holiday Inn Express
Marcus Whitman Hotel and Conference Center
Baskin Robbins of Walla Walla
Shari's of Walla Walla
Tony's Sub Shop
Inland Cellular
Dream Ride Charters
LaQuinta Inn
Best Western Walla Walla Suites
Clarette's Restaurant
Walla Walla Union Bulletin.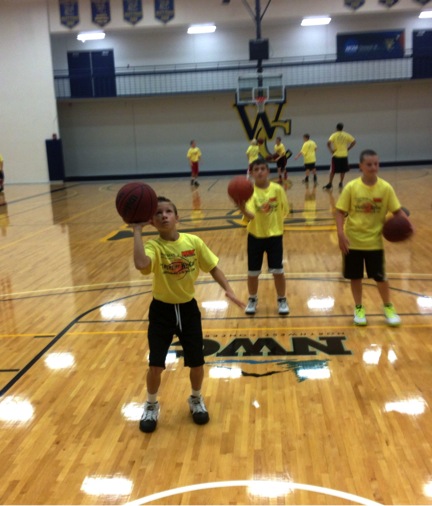 This past summer was the fourth consecutive year that Whitman and Key Technology have teamed up to provide leadership-based "Together We Can" Camps—and the program only continues to grow.
"Our final camp had over 60 children enrolled, which is our largest session to date", said Bridgeland. "As local support for the program has grown, we have been blessed with the opportunity to open the door for more and more of Walla Walla's youth to come to camp free of charge. To have the opportunity to see them make significant strides in the development of their 'life skills' at camp has been immeasurably rewarding. We are incredibly fortunate to be in a community that so diligently supports our youth."