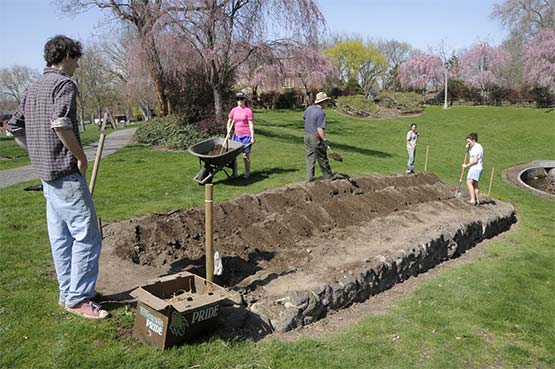 Volunteers tend to one of several "edible gardens" located across campus.
"This can't just be about composting any more."
When the first frost hit last October, Amy Molitor, adjunct assistant professor of environmental studies, and two campus sustainability student interns realized that their organic waste was too cold to decompose. But campus composting interns Hannah Siano '13 and Zoey Rogers '13 were not content to let their project go dormant.
The two had installed compost tumblers in each first-year residence hall section, but when the tumblers were decommissioned due to cold weather, these students didn't abandon their project. Instead, they initiated a campus-wide dialogue about sustainability, facilitated by section Green Leaders.
"The composting started the conversation about 'What can we do to live lighter?'," Molitor said. "Before coming to college, we learn in our homes that we should recycle, compost and turn the lights off. But in the residence hall environment it's different. How do you conserve in that setting?
"The richness of the composting internship was that it led to this greater conversation that was far beyond the parameters of the original internship. It was very successful," Molitor said.
The composting project, now led by Jenni Doering '14 and Katie Radosevic '12, is one of six sustainability internships this semester that are run by 11 student interns, with support from a number of other Whitties. In addition to composting, intern projects include Student Agriculture at Whitman (SAW), the Bicycle Co-op, wind turbine research, sustainability in athletics and an end-of-year recycling program titled "Move Out Madness." Each student receives one academic credit for their work as an intern.
Sustainability interns also collectively assist with additional projects, including the greenhouse gas audit, which was the original impetus for the creation of these internships. Three years ago, Karlis Rokpelnis '09 organized the first greenhouse gas audit during his tenure as Whitman's first campus sustainability coordinator and leader of Campus Climate Challenge, a group that participated in the national effort to make college campuses carbon-neutral. However, challenges with measuring precise quantities of carbon emissions have shifted campus activism in a new direction.
"The audit provided a glimpse of Whitman's emissions, however, it is difficult in a large institutional setting to identify an exact level of emissions," Molitor said. "So in addition to asking, 'What are we doing?' we began to also ask, 'What can we do?'"

Current sustainability coordinators Ari Frink '11 and Nat Clarke '11 have had no trouble answering that question. After brainstorming an extensive list of potential projects to advertise to the student body, these two student leaders have served as advisors for all six projects.
Clarke hopes that some of the interns' projects can be funded by the ASWC Green Fund, a student government savings fund of $20,000 that has been purposed for sustainable grants and projects. However, students also are looking to other grants, as well as outside donations, to fund their projects.
In spring or summer 2011, composting interns plan to renovate an area behind Jewett Dining Hall that will hold an industrial size composting unit, allowing for large-scale, year-round campus composting.
The SAW group also has plans to expand: they hope to move their crop of microgreens from the greenhouse on the roof of the Hall of Science to cold frames that would be built next to Whitman's Organic Garden, a move that would allow future interns to produce larger crops. For now, interns Lydia Bailey '14 and Mary Dolan '11 continue to plant microgreens, which they sell to college dining service Bon Appetit thanks to funding from Whitman's Sustainability Revolving Loan Fund (SRLF). Bailey and Dolan have also begun growing herbs and may try to harvest asparagus and other produce that Clarke has planted across campus in his own edible landscaping efforts.
Like the composting project, the agriculture internships have not merely resulted in reducing carbon emissions but also in raising student awareness.
SAW began last year as "a two-and-half-person project," but it now involves five interns, "plus six or seven other students who help with watering. The size of the core group has grown each semester, and the amount of organization that Mary and Lydia are putting in is just phenomenal," Clarke said.
Throughout all the stages of planning, the interns are grateful for the assistance of their student and faculty advisors.
"They have all been invaluable assets," said Christine Leibbrand '13. "Any time I have a question they are there to help and given the complexity of my task, I have really appreciated that."
Bryant Fong '12, who is collaborating with Emily Rhoades '12 on the Bicycle Co-op internship, agrees.
"When I applied, I was sort of hesitant, but it's been a really valuable opportunity to have the guidance of Ari, Nat and Professor Molitor," Fong said. Despite his early doubts, he is now convinced his project will have an impact.
"It is something that will put Whitman on the map," said Fong.
Clarke is already brainstorming new internships ideas for next semester — from a rideshare website that would facilitate carpooling to a chicken cooperative that would offer students local eggs — but he emphasizes how much has already been accomplished.

"I feel that the potential of students doing these sustainability internships, combining their academics with their passion for a particular project or sustainability in general, has worked and has tremendous potential for student engagement and student happiness on campus. It's been very successful," Clarke said.

To read more about Student Agriculture at Whitman, click here.
To read about Whitman's other sustainability initiatives and organizations, click here.
—Eleanor Ellis '13