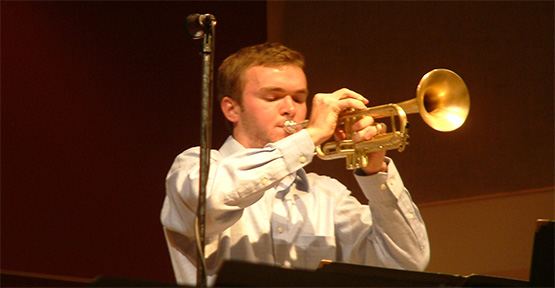 Ross Eustis '11
With a trumpet as his only companion, this summer Ross Eustis '11 begins a 12-month journey around the world, including stops in five countries to explore the "Transnational Dialects of Jazz" as a 2011 recipient of a prestigious Thomas J. Watson Fellowship.
A graduating senior and chemistry major from Seattle, Eustis has been playing the trumpet since elementary school. He brought his love of music and trumpet, an instrument he chose on a whim as a 4th grader, to Whitman as a first-year student. He has since used his talents to perform in Jazz Ensemble, Jazz Band, the Fridays at Four Concert Series, and he organized his own group called the Whitman Jazz Collective that plays at various venues around campus and the Walla Walla community. He cites David Glenn, Whitman professor of music and director of jazz studies, as a mentor who taught him a lot about improvisation and "how to learn the language of jazz better."
Eustis, also a jazz arranger and composer, practices in some capacity two to three hours a day, whether it is playing the trumpet, composing music or listening to music. He is also a chemistry major with a 3.774 grade-point average, which, to an outsider may seem like a tug-of-war between two intensely different interests, and leave some wondering how he gets any sleep, dividing his time between and Hall of Science and the Hall of Music. But Eustis doesn't see it that way.
"Jazz and chemistry are similar because they share two fundamental things at the most basic level. You have to learn the language of each," Eustis said. "In my Watson application, I compared learning a simple chemical reaction to how, in jazz, you need to know the harmony, the licks and the language. You spend so much time learning the language, mastering it, perfecting it and becoming fluent in it. It is all for the purpose of experimentation or improvisation.
"As a scientist, at the end of the day, what you want to be doing is exploring it, tackling it, it is the same in jazz music. You may be playing a standard that's been played a million times, but you're playing it your own way. As far as the actual practice of the two, that is where they diverge. How do I balance the two? It's almost like I need to balance the two and give each side of the brain its own time."
Last summer, while conducting research at the University of Hawaii for his senior thesis, Eustis began exploring the jazz scene in Honolulu. During his free time, he took his trumpet down to the jazz clubs and introduced himself to the musicians and before he knew it was playing gigs three or four nights a week.
"The jazz there is a very laid-back style of music that is pretty notorious to Hawaii, but it made me think about how this jazz is pushing me and how this jazz is different than other kinds I've played. I started thinking about that in the greater context of the world and how it would be even more different. That was the springboard for my application."
Back on campus, he worked closely with Keith Raether, director of fellowships and grants and coincidently a jazz enthusiast himself, on the application process. Several months of application writing and interviews paid off when on March 15, 2011, Eustis was informed he was a recipient.
A description of Eustis's project in his own words: "Improvisation, whether articulated as bebopear, cubop, or hundreds of more (dis)similar descriptors, is the essence of jazz, the language spoken by its practitioners. However, countries have created their own dialects of jazz by assimilating into it the indigenous music forms, rhythms, scales and melodies of their own cultures. I will explore this cross-pollination of jazz and the indigenous music of various countries firsthand by integrating into their jazz communities and learning to listen, think and speak in the local jazz vernacular."
During his year-long trip, Eustis will visit Japan, Sweden, India, South Africa, Brazil and Cuba (pending a lift on travel restrictions), countries that he chose with careful consideration in order to provide himself with a broad view of the world's jazz cultures.
Eustis said he kept many factors in mind as he made his travel plans; he had to be mindful of seasons, natural disasters (such as the earthquake in Japan), politics and trying to secure as many contacts as he could before boarding the first plane. But only so much of a journey like this can be planned, and Eustis admits that he likely will find himself improvising bits of his travel just as he improvises on stage.
On experiencing music in the moment, something that will come often in the coming year, Eustis says, "The most awesome moments I've had playing music have been those moments where it's completely impromptu, it's completely improvised and you're playing with musicians of high caliber. And it's funny; you always rise to the occasion. You really surprise yourself and those moments of surprise are definitely the most exciting"
This year, 40 Watson fellowships were awarded, and each recipient receives $25,000 to pursue their individual areas of interest. According to the Watson website, the fellowship, "… offers college graduates of 'unusual promise' a year of independent, purposeful exploration and travel – in international settings new to them – to enhance their capacity for resourcefulness, imagination, openness, and leadership and to foster their humane and effective participation in the world community."
Eustis is the fortieth Whittie to receive a Watson, joining the recent company of Aisha Fukushima '09, who received the fellowship in 2009 to study "raptivisim," and Nadim Damluji '10 and Seth Bergeson '10, who both received the fellowship in 2010.