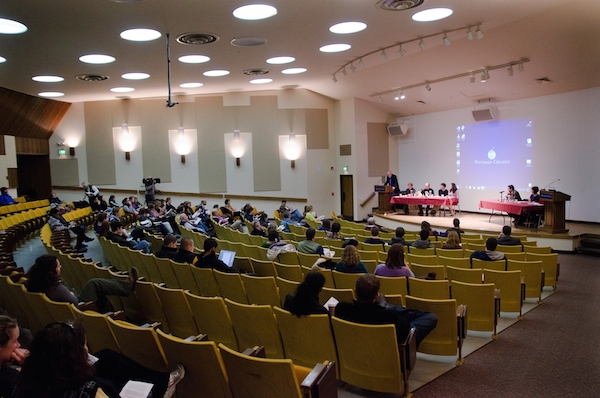 Students, faculty and visiting speakers gather in Maxey Auditorium to discuss "Global Media, Global Spectacles" as part of the 2010-2011 Global Studies Symposium.
For three hours on a Saturday afternoon, Whitman students and faculty gathered on campus to listen and share opinions with a group of esteemed visiting speakers on their notions of "Global Media, Global Spectacles," the theme of the 3rd annual Global Studies Symposium.
"This is what the liberal arts look like," said Bruce Magnusson, associate professor of politics and director of Whitman's Global Studies Initiative (GSI). "The Global Studies Symposium is a place where we can come together to discuss ideas in a sophisticated, intellectual and generous way, not only to offer up our own expertise, but to deepen our own knowledge through deliberation, study, conversation, debate, occasional rancor, and even reconsideration of our own suppositions and ideas."
The symposium, designed with an interdisciplinary emphasis, brought three notable speakers to Whitman's campus: Salman Hameed, assistant professor of integrated science and humanities and head of the Center for the Study of Science in Muslim Societies at Hampshire College, spoke on "Navigating Modernity: Islam, Science, and Global Media;" Shiloh Krupar, assistant professor of culture and politics at Georgetown University, discussed "Transnatural Camp: The Post-Nuclear Nature Spectacle of Rocky Flats;" and Douglas Kellner, George Kneller chair in the philosophy of education at UCLA, gave a talk entitled, "Media Spectacle and the North Africa Arab Uprisings: Some Critical Reflections."
Three Whitman students who have distinguished themselves — Nigel Ramoz-Leslie '11, Gauri Mirashi '11 and Kate Potter '12 — were given the opportunity to critically reflect on the speakers' presentations. After each 15-minute presentation, a Whitman student offered a short commentary in response. Whitman faculty also participated: Bill Bogard, DeBurgh chair of social sciences and professor of sociology, was the faculty moderator of the symposium, and Gaurav Majumdar, assistant professor of English, and Delbert Hutchison, associate professor of biology, served as additional discussants.
"I appreciated the interaction between the speakers and members of the audience," said sociology major Ramoz-Leslie, who offered commentary on Kellner's presentation. "While the presentations themselves were excellent, the ability of the speakers to justify their ideas was both dynamic and engaging. It also forced the speakers to think about their work in different ways which, to me, is the pinnacle of academic enrichment."
The event was "incredibly useful" academically, Ramoz-Leslie said. It also related directly to his senior thesis, which examines Internet humor and "how various components of the media simulate and reshape reality."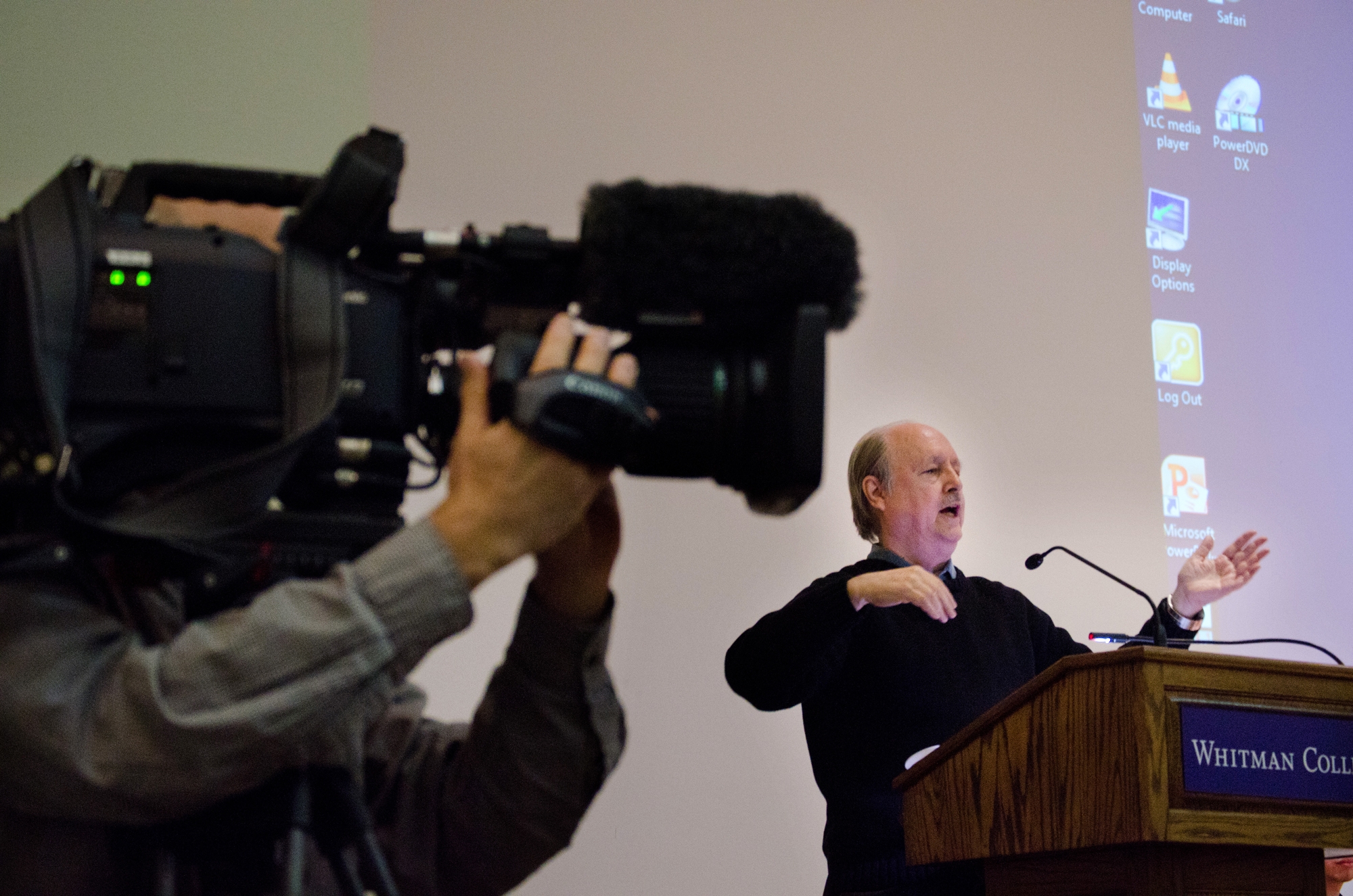 Guest speaker Douglas Kellner, George Kneller chair in the philosophy of education at UCLA, discusses "Media Spectacle and the North Africa Arab Uprisings: Some Critical Reflections."
"I will likely use the work of Professor Kellner in my understanding of media studies, especially in learning how culture both reinforces and creates cultural norms," Ramoz-Leslie said. "As I composed my speech for the event, I was encouraged to think critically in my understanding of both micro and macro level structures."
Magnusson has been impressed by student participation at all three of the Global Studies symposia.
"Student presentations … have been a real highlight — they demonstrate exceptional preparation, thoughtfulness and intellectual curiosity. Our visiting speakers are always extremely impressed by the quality and depth of our students' remarks," he said.
The GSI has sought to foster such interdisciplinary understanding of global topics since 2009, when it was established with a three-year, $345,000 grant from the Andrew W. Mellon Foundation. In addition to the annual symposia, the initiative encompasses faculty development seminars, summer workshops for faculty, the development of six new cross-disciplinary team-taught courses for students, a series titled "Global Re-Visions" published by the University of Washington Press, as well as Whitman's O'Donnell Visiting Educator program.
Magnusson said there is no doubt that the activities of the GSI will leave a lasting legacy on campus. At the end of the 2010-2011 academic year, "more than 50 Whitman faculty will have been involved, innumerable students will be able to take part in the new courses, and nearly 20 students will have been deeply involved in the symposia, or as research assistants for the publications," he said.
-- Eleanor Ellis '13

For more information on the Global Studies Initiative and the 2010-2011 Symposium, click here.