During Spring Break, March 14-25, five service groups from Whitman set out to several regions of the country, to serve designated communities on regional issues. The trips ventured to Seattle, Portland, Issaquah, Wash., New Orleans and Maryville, Tenn. Below, Beverly Li '14 shares her experience as a participant in the New Orleans trip, during which a group of 19 helped rebuild homes devastated by Hurricane Katrina.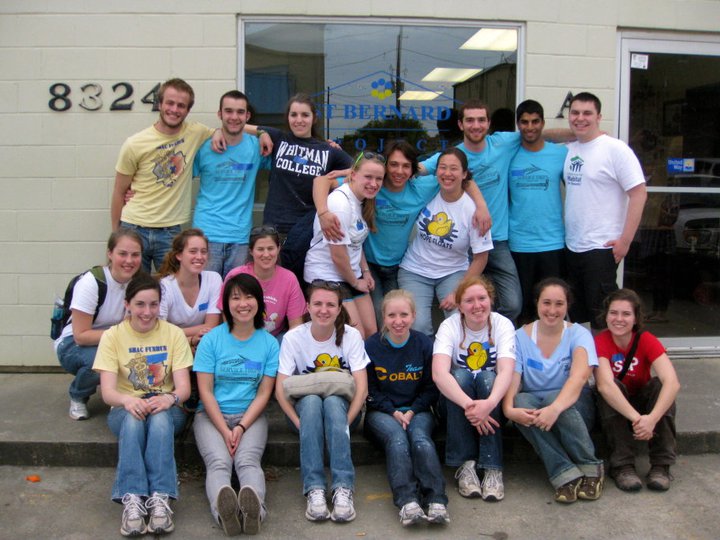 The New Orleans Service Trip group poses in front of the St. Bernard Project building.
Traveling to the opposite coast should not be as exhausting as it is. But stepping out of the airport into the warm New Orleans air was refreshing because it wonderfully contrasted the cold Walla Walla wind that we had experience just that morning. It also served as a reminder that yes, after months of planning and fundraising through the Community Service office, we were indeed in New Orleans.
As we drove around the city the first Saturday night searching for dinner, evidence of Katrina was still immediately present. It has now been six years, but the devastation still impacts the residents of New Orleans today. Later during the trip, we learned that not everyone has been accounted for since 2005; the death toll is still not finalized. The reality of the destruction was especially evident as we continually saw properties that were once homes, now untouched and abandoned since 2005. The graffiti on the exterior, if there was an exterior, marked the day the house was entered to determine how many people and pets died inside.
On Sunday, we were invited to attend church at St. Peter Claver's Church. It was a beautiful mass with amazing gospel music. The best part was that they welcomed us into the community with open arms and wide smiles, and they expressed so much gratitude for our presence in New Orleans. This display of kindness would be a constant throughout our time there. Later on, we went to Waffle House, a popular dining option in New Orleans that so graciously sponsored our meal just because we were volunteers.
In the afternoon, we were able to go on a tour of the areas in New Orleans that were most affected by Katrina. We saw the environmental impact by visiting the destroyed Bayou Bienvenue. It was so depressing to see only water in an area that is supposed to be lush with wildlife. We saw the social impacts by visiting the Lower Ninth Ward, seeing the area where the levees broke and the houses that were still destroyed in comparison to newly rebuilt homes.
For the service component of the trip, our team worked with St. Bernard Project (SBP), a non-profit organization that aims to help Katrina victims. We worked with its Rebuilding Program; we divided ourselves into two smaller groups, each focusing on a house. The houses that we worked on are Opportunity houses, homes that are being rebuilt to be sold to families, as opposed to working on a house that already belongs to someone. In the beginning, it was a little disappointing to not be able to work directly with a victim whose house was destroyed because many of us wanted to hear stories about their experience. However, we learned that these homes will be sold to families in need, and at prices that they can afford, determined by the family's income, which is a beautiful program to provide housing for people in need.
Both groups worked on different aspects of the houses, such as putting up drywall, mudding/sanding, painting, installing laminate flooring, stapling baseboards down, putting up door frames/doors, making windowsills and caulking. By the fifth and last day of work, there was a definite change in both the houses, and the amount of effort that we put into each and every activity definitely paid off. I felt like I made an impact, however small. We tried our best to make the houses as beautiful as possible, because these families deserve the best the world has to offer.
We were able to meet Liz McCartney, the co-founder of the St. Bernard Project, and she described to us how SBP has grown and expanded in the last few years and how volunteers are still the essential part of the success of the organization. Through SBP, we were able to meet some homeowners that they had helped. We met two women, Elizabeth and Donna, who were such incredible and vibrant women that truly embodied the New Orleans spirit. Elizabeth shared with us the story of being shot twice and losing her daughter by someone she loved. The Mental Health and Wellness program at SBP helped her begin the process of healing, and the way her personality shined from the moment we met her showed me that hope and positivity can come from the worse tragedies. She has a goal of getting a million hugs; we were able to help her out.
We also were able to meet with Abdulrahman Zeitoun (subject of the book "Zeitoun," Whitman's 2010 Summer Read) in his home, which was flooded during Katrina. He gave us a personal account of what he witnessed during his stay in New Orleans at the time of the storm. He was extremely kind and cordial, with a great sense of humor and an adorable cat. He put the situation in Japan into perspective as well, and while we saw the immediate devastation in New Orleans, he was able to see similar, and worse, devastations in Japan. And this also reminded us that it was not that long ago that an earthquake hit Haiti. Just because the media loses interest in world events doesn't mean that I should, too. The world needs a lot of help right now.
During our trip we were able to meet some amazing individuals. Katrina changed their lives, but these experiences also changed their way of looking at life. They experienced great tragedy, but also hope and kindness that they now want to spread to individuals like us. I was honored to have been able to hear such powerful orators who shared with us a part of their lives. The service component and the exploration of the city were important aspects of the trip, but being able to listen to those stories is what made the trip worthwhile. It felt as though they wanted to change our lives as much as their lives have been changed in hopes that we would become even better people.
Personally, the greatest lesson that I learned during my trip was that in service, there is not one sole benefactor. Everyone involved gains something, whether they are getting a new house or perhaps just a story or perspectives that changes the way they view the world.
About the author: Beverly Li is a first-year student from San Francisco, California. Her favorite activities at Whitman include volunteering and community service. She is still deciding on her major.