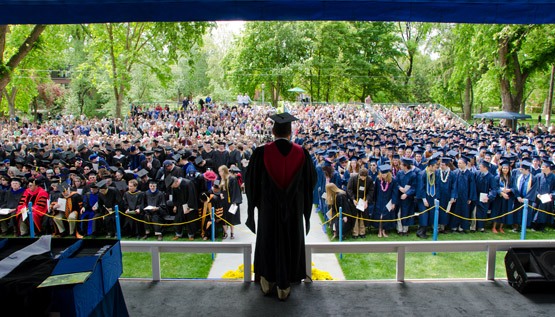 The south lawn of Whitman's iconic Memorial Building was washed in a sea of blue caps and gowns — punctuated by waves of yellow tassels — as the graduating class of 2011 gathered at 11 a.m. on Sunday, May 22, for its Commencement ceremony. Drawing an estimated crowd of 4,000 students, faculty, staff and visiting guests, the event crowned a celebratory weekend of activities, including the 50-year reunion of the Class of 1961 and the college's traditional Baccalaureate, held Saturday afternoon in Cordiner Hall.
Following a welcome by Peter van Oppen '74, chair of Whitman's board of trustees, President George Bridges addressed the graduates, congratulating them on earning their undergraduate degrees. "I wish for you to carry this journey with you as you go forward … you must never cease exploring and understanding," he said.
This year's Commencement speaker and recipient of an honorary doctor of humane letters was Meda Chesney-Lind '69, an accomplished alumna who is professor of women's studies at the University of Hawaii at Manoa. Nationally recognized for her work and advocacy on women and crime and the author of seven books on the subject, her address, titled "But What Was it Like For Women: The Art of the Dumb Question," drew from her knowledge and experience in the gender equality movement and highlighted the impact that Whitman has had on her life.
"It's not the answers you get at Whitman, it's the questions," Chesney-Lind said. "As I left here I had no way of knowing where my passion would take me intellectually but I'd been given a great group of smart friends to hang around with, a very keen set of intellectual skills, a habit of hard work and a passion for social justice."
A total of 378 degrees were conferred, and graduates included student speaker Esther Weathers '11, from Guam, whose speech was titled "We Think We Know It All." Weathers served as an Intercultural Center intern for all four of her Whitman years and, after graduation, she plans to volunteer with agencies that support abused children.
"We all come with the idea that answers will be revealed while we are in college, however, the secret to college is that it is a place to wander and find questions," Weathers said. "By being lost we are able to uncover things that we never expected and become people we never thought we could be."
Six faculty members were recognized as recipients of 2011 Distinguished Faculty Awards for teaching, scholarship, mentoring and advising. These awards reflect the highest recognition of Whitman College faculty excellence.
Julie Charlip, professor of history – Suzanne L. Martin Award for Excellence in Mentoring
Susan Pickett, Catharine Gould Chism Chair of Music – George Ball Award for Excellence in Advising
Kristy King, visiting assistant professor of politics – Robert Y. Fluno Award for Distinguished Teaching in Social Sciences
Sharon Alker, associate professor of English and general studies – Thomas D. Howells Award for Distinguished Teaching in Humanities and Arts
Douglas Juers, associate professor of physics and Garrett Fellow – A. E. Lange Award for Distinguished Science Teaching
Robert Scott Elliott, associate professor of English – G. Thomas Edwards Award for Excellence in Teaching and Scholarship
Whitman continued its tradition of honoring elementary, middle and/or high school teachers who have made a difference in the lives of the college's seniors by awarding a Distinguished Teaching Award to Sandra Sadler Whiton, academic intervention specialist at Chief Sealth International High School in Seattle, who was nominated by Ella de la Cruz '11.
Baccalaureate
Saturday's Baccalaureate presented a unique opportunity for graduates to gather with friends, family and members of the Whitman community in honor of their academic and personal accomplishments. The hour-long event — often described as "more spiritual than religions" — featured student, faculty and staff speakers, and musical performances that reflected on the significance of the occasion. Speakers and performers included the following: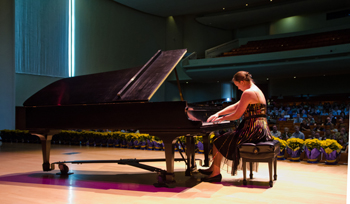 Faculty speaker Walt Wyman, Weyerhaeuser professor of biblical literature and professor of religion, presented a talk entitled "Epistemological Privilege and Critical Thinking."
Staff speaker Douglas Carlsen, director of the bookstore, presented "Changing Voices," a speech reflecting on the vagaries of stability and certainty.
Student speaker Graham Toben '11 addressed "The Long Way Around," sharing how travel, both academically and physically, has allowed Whitman students to develop diverse and important perspectives. He also discussed how these perspectives can be used to help better their communities and surroundings post-college.
Adam Kirtley, Whitman's coordinator of religious and spiritual life, presented a talk titled, "I Am."
Music was performed by Marla Nelson, McKenna Milici and Rachel Wishkoski, all members of the class of 2011.