Panelists include a former State Supreme Court justice, a Seattle Storm co-owner and the director of a museum. The Oct. 28 event is free and open to the public.
WALLA WALLA, WASH. – A powerful line-up of panelists, gathered by a Whitman alumna, will offer inspiration at the 2010 edition of the college's Women in Leadership Symposium.
Free and open to the public, the event takes place Thursday, Oct. 28 at 4 p.m. in the Reid Campus Center, Young Ballroom A (280 Boyer Ave.).
The panelists are: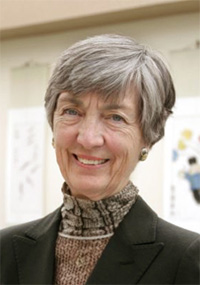 Colleen Seidelhuber Willoughby '55
The symposium is organized by Colleen Seidelhuber Willoughby, a 1955 Whitman graduate and a noted Seattle philanthropist. She has been sponsoring the women's symposium at her alma mater for more than 25 years, bringing women leaders to campus to inspire generations of Whitman students and alumni as they envision their futures. Each year, she serves as symposium moderator.
"Leadership is not defined by the length of your resume," Willoughby says, "but by your ability to draw others to your work."
Willoughby is also the co-founder of the City Club and founder of Washington Women's Foundation. In 2009 she was recognized by the Association of Junior Leagues with its highest honor, the Mary Harriman Community Leadership Award.
For questions about the event contact Susan Buchanan at buchansm@whitman.edu or 509-527-5183.
Read more about the event and panelists here.