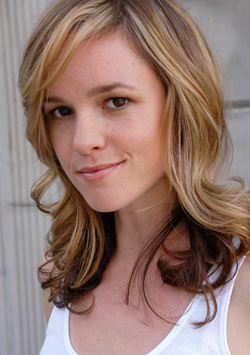 Libby Winters
Part of the cast of "American Idiot," featuring alumna Libby Winters '04 (far right). Photo credit: Paul Kolnik
A major new Broadway musical is opening Tuesday, April 20, with a Tony-Award-winning director and lead actor — and with a Whitman College graduate in the cast.
"It's very, very thrilling and exciting," said actor Libby Winters '04 about her role in the musical, "American Idiot," which is based on rock band Green Day's 2004 Grammy-Award-winning album of the same name and tells the story of disillusioned youth during the beginning years of the Iraq War.
Winters, an English major who was active in theatre while at Whitman, already has a resume of acting, film and television credits. But this is her first role on Broadway and she's under the direction of director Michael Mayer who won his first Tony in 2006 for the musical "Spring Awakening." Also thrilling for her: The show is in the historic St. James Theater on West 44th Street, the place of actor Nathan Lane's long run with the award-winning "The Producers" and where the acclaimed rock opera, "Tommy," opened in 1993.
"It's magical … You can feel the energy of all those shows," Winters said.
"American Idiot" is the next major-hit rock opera after "Tommy," some are speculating, and ticket sales are strong. It has created a cross-over situation as Green Day music fans plan to head for Broadway, and hype is building, in part through an MTV's series that begins Friday, April 16, on the making of the musical.
"I hope to be doing this show for a long time," Winters said and laughed. Green Day singer Billie Joe Armstrong recently described the musical in a New York Magazine story as being "definitely a descendant of 'Tommy.' "
"Sometimes it feels like a musical, sometimes it feels like a performance piece, a rock piece, sometimes a rock concert," said Winters, who at the time was in the thick of hours of final rehearsals and preview shows of the very "ballistic" 90-minute show that involves much jumping, throwing and catching of people and other physical maneuvers. "I'm sore all over."
She has performed with Green Day and the rest of the cast for this year's Grammy Awards show, and she is seen numerous times in a yellow sweater and baseball cap as she performs in the band's recently made video, "21 Guns."
Winters said every time she goes on stage she has the goal of trying to change someone's life, trying to change the world, if even just a little. She thinks her acting skill is the best way she can do that, and "If I didn't act, I would die," she said. "It's something I have to do and have always had to do."
However, she said she didn't know fully if she wanted an acting career until her Whitman experience. She said her well-rounded liberal arts education there, in addition to her English studies and theatre experiences, included sports, running cross country and studying abroad in Morocco. Winters said through experiencing many different areas of study she was able to determine the thing she was best at — acting.
"Whitman gives you so many wonderful amazing skills," she said.
While Winters performs on Broadway, many who share her passion for the Whitman experience will be celebrating 50 years of Harper Joy Theatre at the April 22-25 theatre reunion. Theatre alumni from all years will be back at Whitman to celebrate their alma mater and catch up with old friends and participate in a wide variety of activities.
– Virginia Grantier