.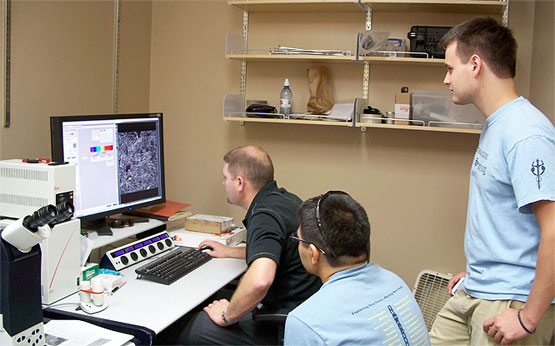 Whitman students, Viral Oza (center) and Jeff Sterritt (right) observe a demonstration by Leica confocal imaging specialist, Tony Cooke, in the newly renovated Live Cell Imaging and Microscopy Center in the Hall of Science.
Another major instrumentation grant from the National Science Foundation (NSF) further strengthens science research and learning at Whitman College.
The latest NSF grant – $549,446 – provides a sophisticated laser scanning confocal microscope, adding another jewel to Whitman's crown of laboratory resources. It is the third such addition in the last two years.
Used for state-of-the-art, high resolution fluorescence imaging of biological specimens, the microscope will expand the college's imaging capabilities, providing new research possibilities and additional opportunities to integrate research into Whitman courses. It joins Whitman's NSF-funded nuclear magnetic resonance spectrometer, X-ray diffraction instrument and scanning electron microscope.
The new confocal microscope also will have a broad regional impact – available for use by students and faculty from other colleges and universities in the area and for demonstrations in existing Whitman outreach programs that target middle school teachers, and middle school and high school students.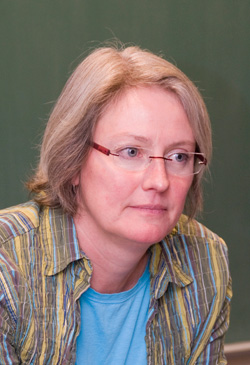 Ginger Withers
"The instrumentation acquired with NSF funding provides amazing resources for the college and surrounding areas. We've assembled a very impressive set of research tools that are getting great use from faculty and students," said Ginger Withers, Dr. Robert F. Welty associate professor of biology and principal investigator for the grant. "Just having the chance to work with such advanced instrumentation is an amazing opportunity for all of us."
Withers said the new microscope will allow students and faculty to conduct important research with the same instruments used in high-tech labs around the world. Whether working alongside faculty or conducting individual research projects, students will gain valuable experience that will help prepare them for careers in the sciences.
Viral Oza, a senior biochemistry, biophysics and molecular biology (BBMB) major from Astoria, N.Y., is one such student who will benefit from access to the new microscope. Since June, he has been working closely with Withers to engineer the way neurons grow on different surfaces. During a recent demonstration of the confocal instrument, Oza was able to acquire three-dimensional images of the neurons he had grown as they wound their way through a dense field of "nanosprings."
"The new confocal microscope adds to the quality of lab work and research that can be conducted at Whitman and will definitely allow for a more integrative analysis of the work I am doing," Oza said. "I hope to go to a biomedical graduate program next year and the opportunity to learn how to use the confocal is both beneficial and very exciting."
In addition to Withers, the Major Research Instrumentation grant will benefit several other Whitman science faculty members, including Christopher Wallace, Dr. Robert F. Welty associate professor of biology; Daniel Vernon, professor of biology; Doug Juers, associate professor of physics and Garrett Fellow, and Leena Knight, assistant professor of biology.
Vernon, who will use the new microscope to advance his research in post-genomic biology, said the recent NSF grants received by the college, totaling more than $1.3 million since 2006, are especially gratifying because they "are peer-reviewed and awarded first-and-foremost for faculty scholarship." He cites the professional successes of Whitman's science professors, as well as the faculty's strong record of including students in their research, as key factors in securing these grants.
Whitman's faculty of experts, combined with a cross-disciplinary curriculum and state-of-the-art instrumentation resources, provide unparalleled opportunities for undergraduate students interested in the sciences. In fact, the NSF includes Whitman on its list of the top 50 schools producing engineering and science PhDs, based on undergraduate institutions that educate the greatest numbers of students per capita who go on to earn engineering and science PhDs.