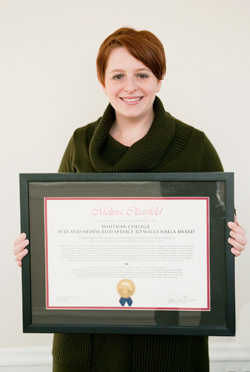 In recognition of her significant contributions both as a community volunteer and scholar, Melissa Clearfield, associate professor of psychology, has been named the 2010 recipient of the Pete and Hedda Reid Service to Walla Walla Award (formerly the Town-Gown Award). She accepted the award at the Walla Walla Valley Chamber of Commerce banquet, held Nov. 10.

"I am truly honored to be a part of the long list of faculty who get involved in our community," said Clearfield upon receiving the award. "One of Walla Walla's strengths is the sheer number of organizations and people who work hard to improve the lives of children and families here in the valley. It's been a privilege to meet and work with everyone who shares that goal."

During her nine years in Walla Walla, Clearfield has been passionately involved in local children's issues, bringing the knowledge and skills that she gained through her training as a developmental psychologist to the aid of organizations and individuals in need. The organizations she has volunteered for include HomeTeam, Children's Home Society and Children's Forum.

Whitman's Pete and Hedda Reid Service to Walla Walla Award honors the 60-plus years of service to the college and community by Pete '49 and Hedda '49 Reid. Pete retired from Whitman in 2009 after working at his alma mater for 61 years.

Traditionally, the award is presented in memory of a Whitman staff or faculty member, and this year it was given in memory of Mary Hanna, Miles C. Moore Professor of Politics emerita and the first woman ever elected to the position of chair of the Whitman faculty.
--Ashley Coetzee