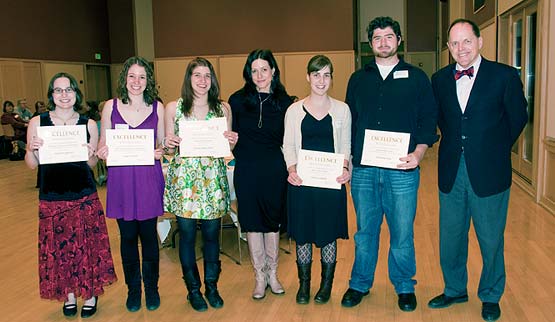 From left: Hadley Jolley, Lisa Curtis, Linnea Bullion, Bethany McLean, Molly Smith, Max Rausch, George Bridges
WALLA WALLA – Pride and joy. Those words succinctly reflect the reaction of the five student winners of the 2010 Hosokawa Journalism Contest, announced March 4.
They were proud of their stories and photographs published in the Whitman Pioneer student newspaper over the last year and joyous in part because of their first-place $500 prizes.
In the five categories, the respective winners are:
News – Molly Smith '11, politics major/Spanish minor from Seattle
Opinion/Editorial – Lisa Curtis '10, politics/environmental studies major from Alameda, Calif.
Features/A+E – Hadley Jolley '13, biology major from Beaverton, Ore.
Photograph – Linnea Bullion '13, major under consideration major from Edina, Minn.
Sports – Max Rausch '10, politics major from Palo Alto, Calif.
The contest is part of an endowment established at Whitman College by David and Beverly Hosokawa and the Hosokawa Family Foundation. The endowment, intended to be a celebration of journalistic excellence, includes the annual contest and a lecture. It honors alumnus Robert R. Hosokawa '40, David's father, and brings a noted journalist to campus. The endowment also established the Hosokawa Prize to be awarded each year in recognition of outstanding achievement and excellence as demonstrated by student journalists and photojournalists of The Pioneer. Robert Hosokawa, a Whitman Alumnus of Merit, Class of 1940, was a reporter for several papers in Missouri, New York, Iowa and Minnesota. He held journalism professorships at the University of Missouri and the University of Central Florida and has been a mentor to many young journalists.
The panel of judges included:
Mary Beth Marklein – USA Today, higher education writer
Alex Beam – Boston Globe, columnist
Jeff Gottlieb – Los Angeles Times, general assignment and former higher ed writer
Tamar Lewin – The New York Times, higher education writer
Tracy Dahl – The Washington Post, copy editor
Jim Vesely – Seattle Times (retired opinion editor)
Nick Perry – Seattle Times, higher education writer
Scott Jaschik – Insider Higher Ed, editor
Rick Eskil – Walla Walla Union Bulletin, editorial page editor
Laure Bishop – Boulder Business Report, writer
Terry McConn – Walla Walla Union Bulletin, staff writer
Bret Rankin – Walla Walla Union Bulletin, sports writer
Matt Zimmerman – Walla Walla Union Bulletin, photographer
Jeff Horner – Walla Walla Union Bulletin, photographer
This year's speaker was Bethany McLean, a contributing writer for Vanity Fair. McLean, a former investment banker turned investigative journalist, helped break the Enron scandal. She addressed "Media as Watchdog: Exposing Corporate Scandal," sharing that at the time no one had any way of knowing things would turn out as they did. She had received a tip from a colleague who told her, "You might want to take a look at Enron." She did, looking first at what seemed like inflated stock prices. That ultimately led to a book she co-authored titled "The Smartest Guys in the Room – The Amazing Rise and Scandalous Fall of Enron."
In addition to the lecture, McLean also spent time with Whitman's student journalists – both in a leadership session with the publisher and editors and with Pioneer staff writers in a workshop.
"The Hosokawa program provides Whitman students who have aspirations in the field of journalism with access to professionals, both through the judging and the speakers," said Ruth Wardwell, director of communications. "It is a tribute to its namesake, Robert Hosokawa, who achieved excellence in the field and valued mentorship. I envision seeing some of our Pioneer writers as contest judges and maybe even speakers someday."