Happy holidays to all from Whitman Athletics!
Much has happened, and continues to happen, with our lively bunch of Whitman student athletes.
Since my most recent newsletter, our fall teams have wrapped up their seasons, our winter teams have jumped headlong into their athletic endeavors, and our spring teams are anxiously awaiting their turns at the plate.
The amount of youthful energy that courses through Sherwood Center and Baker Ferguson Fitness Center on a never-ending basis is truly remarkable – and a blessing to behold.
First, a quick recap on the Whitman fall sports:
Cross Country: Women Run at Nationals!
If you have the opportunity, please send along congratulations of the highest order to the women's cross country team and Malcolm Dunn.
Our women's team placed second at the NCAA Division III regional meet to qualify for the NCAA Championships, which were held in mid-November in Cleveland, Ohio. This is the first time one of our cross country squads qualified for nationals as a team since Whitman completed its transition from the NAIA to the NCAA in the late 1990s.
Our women, while not altogether 100 percent healthy, made a good showing at nationals, placing 25th to match their national ranking at the time.
Racing at nationals was the culmination of much hard work and dedication by seniors Yasmeen Colis, Sara McCune, Michela Corcorran, Heather O'Moore and Emily Rodriguez. Please click here for a feature story on the seniors, which was written in October by Andy Jobanek, a senior and sports information intern.
Junior Kristen Ballinger, sophomore Sara Levy (alternate) and first-year Missionary Emilie Gilbert rounded out our national contingent.
At the earlier regional meet, Yasmeen, Sara, Kristen, Heather and Michela earned individual all-region honors. A few weeks prior to regionals, as the women's team came within a few place points of winning an Northwest Conference title, the same five runners earned all-conference kudos.
Whitman's young, resurgent men's team also made a strong showing at the conference championships, placing a solid fourth in a field of nine teams. It was the best showing for the men's team since it shared a conference title in 1994.
Freshman Cory Rand led the way, placing 11th to earn All-NWC honors. Two more freshmen, Hugh Parker and Alfredo Villasenor, were also part of Whitman's top five. Junior Sam Hennessey and senior Curtis Reid rounded out that group.
Soccer: Academic All-American!
Coach Scott Shields and the women's soccer team enjoyed a strong finish to their fall season, thanks in part to the play of senior standout Corina Gabbert. After terrorizing opponents with 19 goals and six assists in just 17 games, Gabbert also was voted to ESPN The Magazine's Academic All-American Second Team.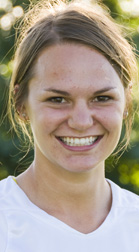 Corina Gabbert
After bouncing back from an early season injury, Gabbert pieced together the most prolific scoring season at Whitman in two decades. She booted a hat trick (three goals in one game) against three different NWC opponents and was named NWC Student Athlete of the Week for women's soccer in four of the season's final six weeks.
Corina was named to the All-NWC First Team for a third straight season (she made the second team in her first year at Whitman). Amy Hasson, a sophomore midfielder, also earned first-team honors this fall after booting two goals and handing out eight assists.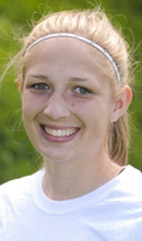 Amy Hasson
Senior goalkeeper Courtney Porter and junior forward Kristin Innes made the All-NWC Second Team this fall, and senior midfield Liz Forbes received Honorable Mention recognition.
Courtney posted seven shutouts this season and finished with 25 for her career. She was named to the all-conference first team as a junior, after making the second team as a sophomore.
Kristin was Whitman's second-leading scorer this fall with four goals and five assists. Liz, a three-year mainstay in the midfield, enjoyed her most productive scoring season with four goals and two assists.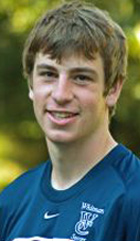 Cooper Crosby
Meanwhile, one year after graduating seven starters, coach Mike Washington and a relatively young men's soccer team lost eight games by a single goal this fall.
Cooper Crosby, a junior and the only returning defensive starter, made the All-NWC Second Team. He earned Honorable Mention recognition last year.
Senior forward Todd Wallenius and junior midfielder Conner Bottomly received Honorable Mention kudos this fall. Todd, who made the Second Team last year, led Whitman in scoring this season with eight goals and one assist (only three players in the NWC has more goals). Conner bounced back from an injury-plagued season a year ago to contribute three goals and two assists.
Volleyball: First-Year Players Make Impact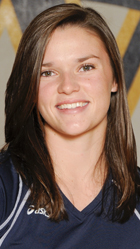 Alex Graves
A handful of first-year players made an immediate impact for coach Carolyn Papineau as a young Whitman volleyball team won its last two matches to cap a season in which it doubled its victory total from the year before.
Senior Alex Graves, one of the few veterans on the team, enjoyed another strong season. Alex, the only player who averaged more than four kills per game during the conference season, was voted by coaches to the All-NWC Second Team. She also was the only player who ranked among the NWC leaders (top 10) in kills, digs and service aces.
Courtney Brewer, a first-year middle blocker, led the NWC in hitting percentage. She also ranked among the conference leaders in blocks. Sophomore Katie Miller topped the NWC in service aces.
And now, without further ado, let's take a quick look at our in-season winter sports teams:
Men's Basketball: Off and Running!
After sweeping a series of three games in California in late November, second-year coach Eric Bridgeland and the men's basketball team is off to a great start with five wins and two losses. That is the best start for the men's program, in fact, in a decade.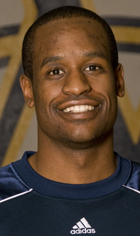 Justin Artis
Justin Artis, a junior guard, played a key role in Whitman's string of three victories in California in late November and was rewarded with NWC Student-Athlete of the Week honors. Justin averaged 13.7 points, 4.7 rebounds and 3.7 steals in those three games.
Justin is one of five Whitman players averaging in double-digit scoring to start the season. The others are junior Daniel Davidson, sophomore Brandon Shaw, and freshmen LuQuam Thompson and Peter Clark.
Fresh from last Saturday's 88-73 victory over UC-Santa Cruz in Sherwood Center, the Whitman men are in line for a fifth straight victory when they host North Central University (Minneapolis, Minn.) this Saturday at 4 p.m.
Whitman then plays a final non-conference game against Wisconsin-Whitewater on Dec. 28th in Spokane, Wash. The Missionaries dive into their NWC season in early January.
Women's Basketball: An Opening Victory & Injuries

Despite missing three players, an injury-plagued Whitman women's team made a good season debut with a 62-59 victory over Macalester College in the Kim Evanger Raney Memorial Classic.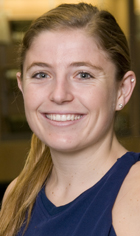 Kelly Peterson
Senior Michelle Krall and sophomore Jennifer Keyes missed the opener as they continued to rehab injuries, and first-year guard Emilie Gilbert was gone that weekend as she ran for Whitman at the cross country national championships.
While Michelle continues to work her way back into playing shape, the news is less encouraging about Jennifer, who may miss the remainder of the season. To make matters worse, junior guards Jenele Peterson and Anna Forge have also suffered what appears to be season-ending injuries, and senior guard Dawna Mello has been sidelined at least temporarily by injury.
Despite that adversity, coach Michelle Ferenz and her hardy band of survivors have shown tons of character by winning their last four games, including last Saturday's huge comeback win over a very good Eastern Oregon team.
First-year guard Kelly Peterson, pressed into a starting role, has been up to the challenge and played a critical role in the Eastern Oregon triumph. Kelly had 14 points, 13 rebounds, three assists (one turnover) and three steals, and made a number of key plays with the game on the line in the closing minutes.
No surprise, then, that Kelly was named NWC Student Athlete of the Week for women's basketball on Monday. Mary Madden, Kelly's teammate at Edison High School (Huntington Beach, Calif.), is also in her first season at Whitman and doing well. Mary had 13 points and seven rebounds against Eastern Oregon.
Swimming: Men/Women Go 4-0
The men's and women's swim team, with nearly 50 athletes on the rosters, are off to a splendid start this winter. Both teams are 4-0 in dual meet competition and both teams placed a strong third at the Northwest Invitational in late November.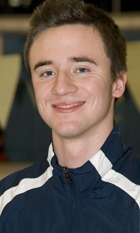 Kevin Dyer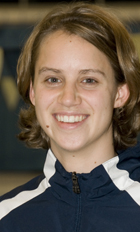 Katie Chapman
Led by coach Jennifer Blomme, the Whitman teams made a definite statement at the invitational, outscoring all NWC teams except Puget Sound and Whitworth, two schools that have held the upper hand in swimming for some time.
First-year swimmers Katie Chapman and Kevin Dyer outswam a large number of competitors to win individual events at the Northwest Invitational. Dyer was second and Chapman third in two other events. Charlotte Graham, another first-year swimmer, was a close second in one of her races.
Katie and Charlotte have also contributed to a pair of new school records in the relays, teaming with junior standout Lauren Flynn and yet another member of the first-year class, Helen Jenne. One of those relay records had stood for 17 years.
Other key swimmers for the men's team include senior Eric Molnar, juniors Jamie Nusse and Chad Trexler, and sophomore Chris Bendix.
The swim teams resume competition on Jan. 13 at the Cal Lutheran Relays in Thousand Oaks, Calif. Whitman also has four dual meets remaining, including two home dates, before the NWC championships in mid-February.


--
Dean Snider
Athletic Director
Whitman College
509-527-5288 (o)
sniderdc@whitman.edu