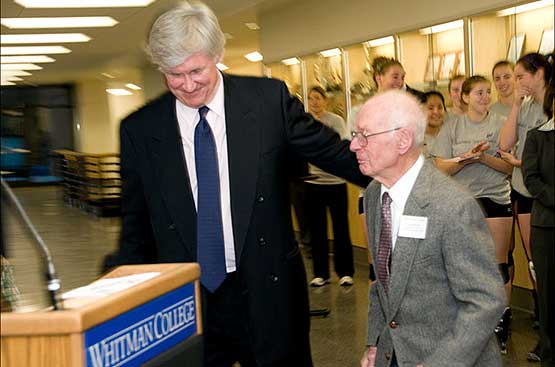 While the facility itself took center stage at the Nov. 5, 2009, rededication of Sherwood Athletic Center, it was Dr. George Ball who received heartfelt accolades for his devotion to Whitman athletics and athletes, and for being "one of the most avid sports fans in Whitman history," said Trustee and Sherwood donor John Stanton '77 in his comments at the ceremony. The main gymnasium has been named in Dr. Ball's honor, and the upper level north and south walls now bear the name "George Ball Court."
In delivering the keynote address Stanton praised Whitman athletes for their pursuit of leadership, on and off the court and field. He also poked fun at himself, sharing that his son questioned his support of athletics. "I lettered in debate," Stanton said.
Click here for a video of John Stanton's comments.
See a photo gallery from the event here.