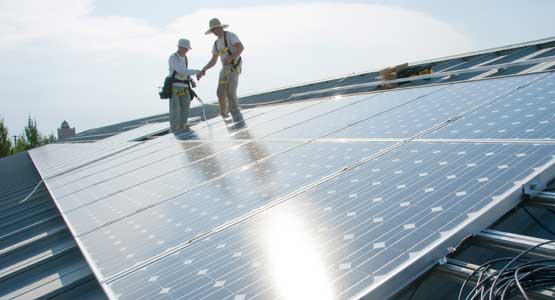 Public is invited to Oct. 3 solar panels dedication event
WALLA WALLA, Wash. – As of 3:30 p.m. Tuesday, Sept. 1, the 21kW photovoltaic solar array installed this summer on Whitman's Bratton Tennis Center roof was up and running, and by sundown it had produced 30 kWh (kilowatt hours).
The solar equipment represents future savings in energy costs, demonstrates Whitman's commitment to environmentally sound development and gives the college a new educational tool.
The amount of energy produced by the photovoltaic panels, which will help offset energy costs, will depend on weather conditions, said Jeff Donahue, construction project manager. The new system is expected to produce 25,000 kWh annually; and last year the Bratton Tennis Center used approximately 129,000 kWh. "We are projecting a 20 percent reduction in power needed from the power company as a result of the solar panels, and the $3,150 production incentive we receive from the state will offset 54 percent of the building's power costs annually." The project also qualified the college for a state tax exemption that saved Whitman $13,695.
The educational aspect of the project is a vital component, said Bob Carson, Grace Farnsworth Phillips professor of geology and environmental studies, and Whitman is ideally suited to educate members of the Whitman and Walla Walla communities about the importance of alternative energy solutions. "This project shows students and community members that what needs to done, can be done. It's a public acknowledgement that we can't continue to get all of our power from fossil fuels, because we do have alternative energy solutions."
Carson and his wife, Clare, have long believed in promoting alternative energy use. Since 1994 they have utilized solar panels at their cabin on the Kitsap Peninsula, and in February of this year a 2.45 kW system was installed at their Walla Walla home.
Whitman's environmental studies program will utilize the project in educational programming for students and community members, said Jed Schwendiman, co-chair of the college's Conservation Committee and associate to the president. A solar monitoring station will be established on the first floor of the Hall of Science, adjacent to a pre-existing weather, seismic and stream-monitoring station, and a Web site will allow anyone to monitor the system's output.
Whitman students, faculty and staff have a long history of dedication to environmental responsibility. In fact, national rankings place Whitman in the top tier of more than 2,500 colleges and universities in the nation, and "The Princeton Review" has given Whitman a "Green Rating" of 91 out of a possible 99.
Whitman was the first college in Washington State to invest in the wind power credits offered by Pacific Power's Blue Sky Program, which supports sustainable energy sources. In 2007-2008, largely due to student fund-raising efforts, Whitman purchased more than 38 percent of its electricity from the Blue Sky Program. The 37 wind turbines operating on Whitman-owned farms place the college No. 1 on the "Wind Power on Campus" list posted by the Association for the Advancement of Sustainability in Higher Education. In addition, said Schwendiman, the college's Environmental House, an on-campus student residence, boasts a demonstration solar power and hot water system.
Last year the college received a $51,750 grant from the Pacific Power Blue Sky renewable energy program to help fund the solar panel project, which cost approximately $165,000. In addition, the Alternative Energy Fund Team, a student and alumni group dedicated to promoting renewable energy on campus, raised $24,000, and the class of 1999 gave $25,000 to the project as its 10threunion gift.
"It's really very impressive that the college was able to pull together and utilize resources from students, parents, alumni and Pacific Power's Blue Sky grant program," said Carson.
The monitoring Web site for the system is expected to be online by Friday, Sept. 4, and an official dedication of the solar panels will be held Saturday, Oct 3, at 3:30 p.m. in Kimball Theatre, Hunter Conservatory.
For more information on Pacific Power's Blue Sky program, click here.
End
CONTACT:
Lenel Parish, Whitman College News Service
(509) 527-5156
parishlj@whitman.edu