Several hundred Whitman faculty, staff, students and families escaped a 95-degree day in May to attend the college's annual Baccalaureate ceremony Saturday in Cordiner Hall.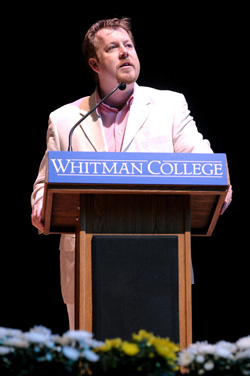 Adam Kirtley

There they heard four speeches by faculty and staff and were treated to a spirited reading of Brahms' Sonatensatz in C minor by violinist Rhea Edelman '08 and pianist Lisa Taylor '08. They also listened to Nancy Tavelli, associate dean of students (campus life) and director of Residence Life and Housing, deliver a cover of the Indigo Girls' "Closer to Fine" with a little help from her friends, Jenny Miles and Rich Monacelli.
"My daughter Katherine said I should not say this until I had finished singing, but that was really scary," Tavelli allowed. "We all have our comfort levels, and I, quite frankly, just pushed mine." Tavelli's audience saluted her courage with a second ovation.
In his introductory remarks, President George Bridges distilled the origins of the Baccalaureate tradition and saluted its importance in the natural order of undergraduate education. "Baccalaureate ceremonies like this one," he noted, ". . . represent a time for students to reflect… on their intellectual development, the knowledge and competencies they have acquired, the relationships they have formed with faculty, staff and other students, and how their academic experience will guide the next steps in their promising lives."
In keeping with tradition, Adam Kirtley, Stuart coordinator of religious and spiritual life and adjunct professor of general studies, led the round of speeches. Kirtley discussed the tenets of the Golden Rule and its modern-day variants, the "Platinum Rule" and "Silver Rule," before arriving at a few words of advice for his audience: "I implore you to access this flawed, non-universally applicable, potentially absurd, antiquated principle," he said. "It is not passive. Yes, treat others as you would be treated. But teach as you would be taught. Listen as you would be listened to. Challenge as you would be challenged."
Tavelli embraced Bridges' suggestion, in his Baccalaureate invitation, that her talk be celebratory and contain a message that reflected her personal experiences at Whitman. "This request has sent me on a personal journey," she said. For Tavelli, the journey not only turned up the Indigo Girls' "Closer to Fine" but also a line from a song by Ani DiFranco: "If you don't ask the right questions/every answer seems wrong."
Elizabeth Vandiver, associate professor of classics and Clement Biddle Penrose Professor of Latin, turned to Alfred Tennyson's poem, "Ulysses," to frame her talk and implore her listeners, as Tennyson directed his readers, to "follow knowledge like a sinking star/beyond the utmost bound of human thought."
"Do with your education what Tennyson did with the traditions about Odysseus," Vandiver told the students in the audience. "Take what you have learned, refract it through your experiences, remold it and change it — that is what your courses were for."
Robert Tobin, Cushing Eels Professor of Humanities and chair of Division II, noted that the opportunity to speak at this year's Baccalaureate was a special privilege because he, like the graduating class, will be leaving Whitman after Commencement. He then talked about what drew him to the college nearly 20 years ago, comparing Walla Walla to 18th-century Weimar, Germany, center of culture and home of the country's humanist tradition.
"Why would one ever leave such an idyllic environment as Weimar, Washington?" Tobin asked. For an answer, he turned to Goethe's hugely influential "Faust," most of it written when Goethe lived in Weimar.
"Our dark strivings will at times be obscurely motivated and incomprehensible to our loved ones," Tobin said. "But as we leave Weimar, Washington, I think we need to take the risk of hoping and believing that… there will be a rainbow, and that rainbow will reflect the vast diversity of experiences that (are) in store for us."
The complete text of all four Baccalaureate speeches can be found online here.
CONTACT:
Keith Raether
Office of Communications
Whitman College
(509)527.4917
raethekr@whitman.edu