WALLA WALLA, Wash. – William Gates Sr., co-chair of the Bill and Melinda Gates Foundation, retired attorney and father of the famous entrepreneur, will present the 2008 Whitman College Commencement Address Sunday, May 18.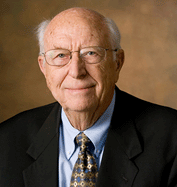 William Gates, Sr.
Whitman President George Bridges, in making the announcement, cited Gates' lifelong commitment to public service, his visionary leadership of the Gates Foundation, and his longstanding passion for improving the living conditions of the poor as inspirational and particularly fitting for Whitman's Commencement address. "I cannot think of a better person to address and advise our graduates," he said.

Gates Sr., a retired attorney who co-founded the Seattle law firm now known as Preston Gates & Ellis LLP, earned his law degree at the University of Washington, where he now serves on the Board of Regents. He is an advocate for numerous causes, which include improving education and reducing homelessness.
In his capacity as co-chair of the Gates Foundation he recently declared war on a disease that continues to strike children around the world. "Eradicating polio is an achievable goal," he said, at the Nov. 26 announcement that the Bill and Melinda Gates Foundation is providing a $100 million matching grant to Rotary International to help completely eradicate polio worldwide.

In a lifetime of service, Gates Sr. has received numerous awards and honors. He was named a University of Washington Law School Distinguished Alumnus in 1991; received the American Judicature Society Herbert Harley Award in 1992; and was inducted into the American Academy of Arts and Sciences in 2003. He was president of the Washington State Bar Association from 1986 to 1987 and has served on numerous boards, including those of the Board for Judicial Administration, Washington State Supreme Court; Planned Parenthood and Costco. The William H. Gates Hall, 2003, at the University of Washington Law School is named for him.
For more information about Commencement 2008 at Whitman, see www.whitman.edu/commencement.
End
CONTACT: Lenel Parish, Whitman College News Service, (509) 527-5156
Email: parishlj@whitman.edu