Patrick Frierson, associate professor of philosophy at Whitman College, this week received a National Endowment for the Humanities Fellowship Award for the 2008-09 academic year.
The $50,400 grant to Frierson and sponsoring institution Whitman will support his research endeavor, "Immanuel Kant's Theory of Human Nature," part of a larger book project in which Frierson will address the question, "What is the human being?" The book will be published by Routledge, a leading academic press in the humanities.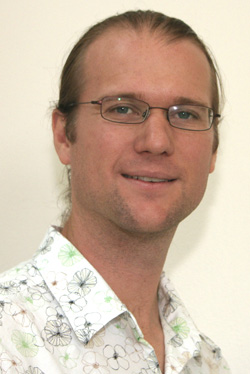 Patrick Frierson
Frierson credits Whitman for contributing to his success with NEH. "Whitman is a place where the humanities are respected as an essential part of a liberal education," he said. "The small size of the school, the close-knit relationships among faculty and the broad interests of students mean that I have the opportunity to interact across disciplines, which provides a needed background for the kind of project that I'll be working on for my NEH fellowship."
At Whitman, Frierson regularly teaches the philosophy of science, a course that draws students from the humanities, social sciences and sciences. From one of these classes, he and a biology student developed an independent study project on the philosophy of biology. "She taught me about evolutionary biology, while I taught her about philosophy," Frierson said. "The result was a much deeper understanding, for both of us, of many of the biological issues that will be essential as I try to answer the question, 'What is a human being?'
Frierson's award funnels from NEH's Division of Research Programs, which provides support for college teachers and independent scholars whose research promises to yield new knowledge about human history, language and culture.
"Humanities projects funded through endowment support help us understand where we've been, who we are today and what ideas we must pass on to future generations," said NEH Chairman Bruce Cole.
Frierson has taught at Whitman since 2001. He received his bachelor's degree, magna cum laude, from Williams College in 1995, and his master's and doctorate degrees from the University of Notre Dame in 1998 and 2001, respectively. He has received several honors and awards in his academic career, including an NEH summer stipend, two Perry Awards from Whitman and an appointment as Visiting Scholar at the University of Washington.
"Whitman increasingly seeks to be a school where students not only have close connections with their teachers, but also where our teachers are scholars making important, innovative contributions to their fields," Frierson said. "By successfully competing for fellowships like the NEH award, I can devote myself single-mindedly to my students while I am on campus and still work towards becoming the kind of excellent scholar from whom students of Whitman's caliber deserve to learn."
For a complete list of NEH grant recipients and awards, visit: www.neh.gov/news/archive/NEH_Grants_by_state.htm .
CONTACT:
Keith Raether
Office of Communications
Whitman College
509-527-4917
raethekr@whitman.edu