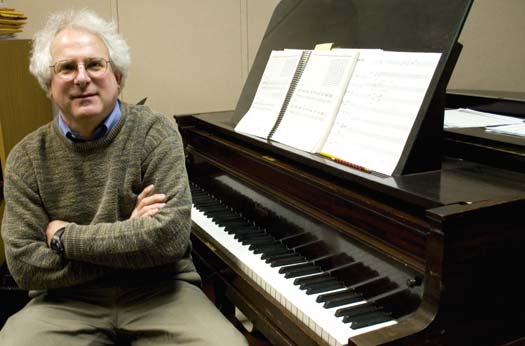 David Glenn's tone poem, "Valley of Streams," now comes in full color.
When Glenn, a professor of music at Whitman, composed his paean to the Walla Walla Valley, he organized the piece in four settings to capture the region's landscape, colleges, downtown and Hispanic community. The Walla Walla Symphony premiered the work in April at Cordiner Hall.
Since then, Glenn has added a striking visual element to the work: 41 photographs by local photographer Jeff Horner. When the orchestra reprises "Valley of Streams" in its "A Centennial Finale" program (3 p.m. Sunday, Dec. 16), Glenn's symphonic poem will be complemented by Horner's photographs projected on two walls of the hall.
"When I first sat down to write the piece, I saw it unfolding like a film," Glenn said. "The more I thought about a visual connection, the more I thought photos would be more organic and less distracting."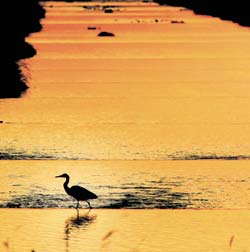 Jeff Horner's photographs, including this image of Mill Creek, will complement David Glenn's "Valley of Streams"
Glenn, a member of Whitman's music faculty since 1989, had seen hundreds of Horner's photographs on the front pages and section fronts of the Walla Walla Union-Bulletin. "Jeff's work captures the Walla Walla Valley beautifully," Glenn said.
Horner gave Glenn 200-odd photographs to consider for "Valley of Streams." The composer had little difficulty matching them to his score. Images of blue herons and fledgling owls are paired with the pastoral opening section. A photograph of the Climbing Wall at Whitman appears during an ascending bass line. As the photo sequence tracks geographically from east to west and temporally from day to night, the music develops in corresponding tones, textures and pace.
"A few people warned against adding images to the piece," Glenn allowed. "In this case, I don't think it takes away from the impact of the music. I think the visual element adds another dimension."
Glenn, who directs the Jazz Studies program at Whitman, has a bachelor's degree in trombone performance from North Texas State University and a master's degree in composition from the University of Northern Colorado. He spent 11 years in New York, working in the Gerry Mulligan Concert Jazz Band and Bill Watrous' Manhattan Wildlife Refuge.
"Valley of Streams" is one of four works for orchestra that Glenn has written. The Walla Walla Symphony premiered his "Christmas Fantasy for Orchestra and Jazz Sextet" in December 1998. "A Day at Carnaval" was first performed in April 2000 by the Mid-Columbia Symphony. "Artist Portraits" was introduced by the Walla Walla Symphony in March 2001.
Tickets to the Walla Walla Symphony concert are available online (www.wwsymphony.org) or at the door.
CONTACT:
Keith Raether
Office of Communications
Whitman College
509-527-4917
raethekr@whitman.edu