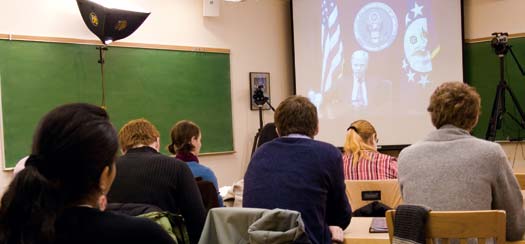 Whitman College students this week experienced an exceptional learning moment in their expanding academic lives: an audience with U.S. Ambassador to Iraq Ryan Crocker.
Crocker, who graduated from the college in 1971, talked live from Baghdad to students in Shampa Biswas and Bruce Magnusson's class on the Iraq War via a videoconference that filled a full class session.
At 7:30 p.m. in Baghdad – 8:30 a.m. in Walla Walla – Crocker greeted a group of 21 students, two professors, three technicians and Whitman College President George Bridges and Provost and Dean of the Faculty Lori Bettison-Varga, all gathered in a classroom specially equipped for videoconferences.
Magnusson introduced the ambassador and shared highlights of his resume, including his ties to Whitman. Crocker thanked the students for attending, joking that the early hour in Walla Walla probably seemed like "the middle of the night in undergraduate time."
Biswas and Magnusson's students prepared more than a dozen questions in advance of the session. They ran the gamut of issues, from "the largest single obstacle to achieving U.S. objectives in Iraq" to "the domestic cost of continued spending in Iraq and the war on terror" to "U.S. citizens' understanding of world events, particularly in Iraq and Arabic-speaking countries."
"The ambassador was receptive to all of the questions and answered them in some depth," said Magnusson. "He was particularly attentive to questions about the sectarian tensions at play in the creation of a new government in Iraq and spoke to those at length."
"His answers demonstrated his strong grasp of regional issues and wide diplomatic experience," said Biswas. "The ambassador is exceptionally sharp and able to think on his feet."
"He reaffirmed the complexity of the issues in Iraq that we have tried to get across in class," Magnusson added.
Biswas noted that "The Iraq War" course was designed as an international politics class using the war as a springboard for questions about the politics of international law, the future of the United Nations, the implications of a privatized military and other issues.
She and Magnusson, each an associate professor of politics at Whitman, were quick to salute their students for their contributions to the videoconference and the class in general. "They are an exceptional, highly motivated group," said Biswas. "They have really grappled with some difficult issues from a variety of perspectives."
Jeff DeGroot '08, a U.S. policy studies major who serves on the Council on Student Affairs, spoke for many classmates in his evaluation of the session. "There couldn't have been a better way to conclude our semester studying the Iraq War than to interact with a Whitman alumnus who it is at the center of the current policymaking process in Iraq," he said.
Crocker was expansive throughout the videoconference. He was also mindful of his core audience – Biswas and Magnusson's students – and the roles they likely will play in the future of the country and the world.
For those considering a career in foreign service, he offered two essential pieces of advice: Achieve proficiency in a second language and work diligently to gain a deep understanding of history.
The videoconference was coordinated by Richard Sackett '05, manager of instructional media services, with assistance from David Sprunger '96 and Matt Pearson '07. Sackett saw to all technical links with Baghdad and orchestrated two trial runs before the conference. Sprunger set up lights and circulated a wireless microphone among students during the question-and-answer session. Pearson operated one of two video cameras.
"The most difficult part of the project was coordinating our tests with the 11-hour time difference," said Sackett. "We had some early mornings, but it was great to be able to make the technology work. Everyone in the room seemed to thoroughly enjoy and appreciate the opportunity."
"Technical Services did a remarkable job," said Magnusson. "The setup was very impressive. To have a real-time conversation with the ambassador about Iraq was amazing."
"To study the Iraq War as we have, and then be able to talk live to the most important policymaker on the issue, was a special experience – for all of us," said Biswas.
DeGroot echoed Biswas' sentiments. "There are few times that you get this kind of opportunity," he said. "All around, it was a great experience."
Coincidental with the videoconference, a flag memorial honoring American soldiers and Iraqi civilians killed in the Iraq War was installed earlier this week on Ankeny Field at Whitman. Some 165,000 red and white flags make up the memorial, which will be on view through Dec. 2.
CONTACT:
Keith Raether
Office of Communications
Whitman College
509-527-4917
raethekr@whitman.edu