$120,000 over the next three years; fieldwork in Iceland, Greenland
WALLA WALLA, Wash.—Whitman senior Ben Schupack has been awarded a prestigious National Science Foundation Graduate Research Fellowship of $120,000 over the next three years.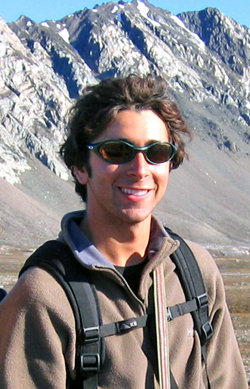 Ben Schupack
Schupack, who is majoring in geology and environmental studies, plans to attend the University of Colorado, Boulder, next fall, where he will be working within INSTAAR (Institute of Arctic and Alpine Research). He will be focusing on the interaction between volcanic eruptions and Arctic climate variability, and he expects to do ice-core and lake-core field work in Iceland and Greenland.

Schupack said he was pleased with this "very special news." Thousands of undergraduate and graduate students across the nation apply for this prestigious fellowship each year. Bob Carson, professor of geology, said this fellowship is just one small part of Schupack's success story.
"He has so much talent," said Carson. "As an undergraduate researcher, he's presented at four professional meetings, three of which were national, and they've been on four different subjects." Schupack's presentations have ranged from an aspect of Mars geology to the volcanic rocks of southern Idaho to an award-winning poster presentation at the conference of the American Society of Limnology and Oceanography last February. In addition to a broad scholarly reach, said Carson "He's a scholar athlete with a lot of fine arts talent," serving as the lead trombonist in the Whitman Jazz Band and participating with the award-winning cycling team.
Schupack's breadth of scholarship was in evidence with the recent best poster award.Although he had never before taken a biology class, he enrolled last year with a semester abroad program in tropical marine ecology with the School for Field Studies in the Turks & Caicos Islands, British West Indies. When students were assigned a directed research project, Schupack and fellow student Elizabeth Stoner, of Skidmore College, chose to design their own project.
Schupack and Stoner analyzed the impact of a nearby fisheries processing plant on the surrounding waters and mangrove forests, called mangals. The plant was discharging hundreds of gallons of organic waste and bleach into the ocean each month. Using comparisons to a control mangal, Schupack and Stoner studied nutrient contamination levels, discovering a correlation between nutrient contamination and the unusual abundance and size of a species of jellyfish off the coast of the fisheries plant. In addition to the best poster award, Schupack and Stoner were rewarded by the processing plant owner's decision to use a UV filter in the fisheries plant to completely eliminate the dumping of bleach into the ocean, while also providing long-term economic benefits.
CONTACT: Lenel Parish, Whitman College News Service, (509) 527-5156
E-mail: parishlj@whitman.edu