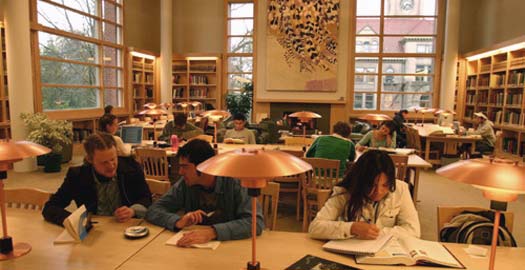 Much of the history of Penrose Library is contained in its walls. From the vantage point of Memorial Hall, three distinct architectural designs are evident: the original rectangular building; an angled addition from the '70s; and a handsome, glass front from a renovation in 2000.
It's a blend of old and new that echoes the inner workings of Penrose as the library, built in 1957, moves forward in the 21st century.
"Within the last 10 years, we've moved to a digital environment," says Library Director Dalia Hagan. "There is tension now. The book as we know it is not going away, but there is more need for expensive digital resources. We've had to reallocate our resources. We're trying to achieve a balance."
"Libraries have adopted a hybrid approach to collection development," says Archivist and Special Collections Librarian Michael Paulus. "At Penrose, we subscribe to electronic resources, but books are still essential to the nature of an academic library."
The renovation in 2000, Paulus says, took into consideration the need for books as well as new information technologies. "Nowadays when people redesign, they often lose space and books," he says. "We didn't. We still buy books."
At the same time, the online field is expanding dramatically. Penrose now boasts more than 18,000 unique journal titles and upwards of 80 databases.
"The resources keep getting richer," says Professor of English Jean Carwile Masteller. "First there was JSTOR, now there is JSTOR2. At first, MLA only went back five years, and now it goes back to the first issue in the 1920s."
"We are balancing the traditional academic monograph with digital scholarship," Hagan says.
The latter, Paulus adds, can be problematic. "In the preservation world, there is talk of the coming Digital Dark Age," he says, noting the impermanence of digital material in a world where technology quickly becomes obsolete. Data stored on physical devices like the floppy drives of the '80 and '90s quickly become inaccessible as the hardware and software needed to access and interpret the information is increasingly unavailable.
"Archivists must be more proactive in collecting material," Paulus cautions. "In the past, archives have waited for papers. Now, with digital material, we can't expect these fragile objects to come to us at a later time. We have to deal with preservation issues earlier on."
Penrose's Whitman College and Northwest Archives currently houses at least 3,500 linear feet of archival and manuscript material and 5,000 rare books from Whitman's and Walla Walla's distant and recent past. The collection is unique and extensive for a liberal arts school of 1,497 students and 223 faculty members. "We look at materials on a moving timeline," Paulus says.
Another dimension of the digital age is the opportunity for libraries to provide online access to valuable historical records. Penrose has launched several digital initiatives designed to make many of Whitman's own rare and unique resources available online.
Faculty and students, too, have adjusted to technological innovations at different rates.
"It's an evolutionary process," Hagan says. "Different disciplines evolve in different ways. The sciences, for example, were very early adopters of new technologies."
The library often works directly with individual faculty. "There are very creative uses through all the disciplines," Hagan says. "It's amazing what professors can do."
Carwile Masteller, who came to Whitman in 1978, has witnessed the full adaptation. "As more information is available electronically, it becomes more important that students know how to use it. They must be able to find and evaluate information."
"We're constantly working to ensure students can retrieve, evaluate, and synthesize information, not just here at Whitman but throughout their academic lives," Hagan says.
"It's a hard task for the library to help train students about reliable versus unreliable information," Carwile Masteller adds. "I think there's a temptation to rely solely on online sources because of the ease. Reliability can be a problem."
The English Department was one of the first departments to benefit from an information literacy grant several years ago, which Carwile Masteller says led to a "departmental understanding of the importance of information literacy." Training exercises are required in two courses: "Approaches to Literature," an introductory class required for the English major, and the capstone senior seminar.
"At first, students complained about having extra projects," she says. "Now, they are better able to see their value. They are also encountering this technology in other places."
Hagan notes that the library is adding new databases and exploring possibilities for streaming media. Meanwhile, both the library and the archives division have launched newsletters to keep students and faculty aware of developments and events. At Penrose, the balance between tradition and innovation endures.
— Katie Combs '08
CONTACT:
Keith Raether
Office of Communications, Whitman College
509-527-4917
raethekr@whitman.edu