Walla Walla, WA – For the second straight year, Whitman College's annual art and literary magazine, blue moon, has been awarded the Columbia Scholastic Press Association's Gold Medal. The recognition comes after judges at the association critiqued blue moon's 20th volume, which was published last May. In addition to receiving the gold medal, blue moon also received All-Columbian Honors in the categories of organization and design.
"This award really recognizes the tenacity, vision, and innovation that last year's staff brought to the magazine," said editor-in-chief Kate Rosenberg '08. "It invites us to pause for a moment and consider how truly exceptional blue moon is."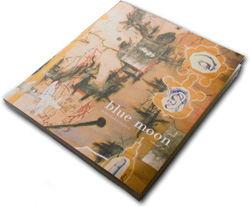 Published every spring, blue moon features the visual art, poetry, and prose of members of the Whitman community, including students, faculty, staff, and alumni. It is entirely student-run.
"This gold medal designation further demonstrates what people familiar with blue moon already know: It's a top-notch art and literary magazine, among the best of its kind in the country, with excellent literary and visual content, a clear crisp design, and stellar organization," said Scott Elliot, assistant professor of English and blue moon's academic adviser.
Founded in 1925, the Columbia Scholastic Press Association is an international student press association whose goal is to unite students at schools and colleges by critiquing publications and recognizing outstanding work. The association is owned and operated by Columbia University as a program affiliated with its Graduate School of Journalism. Approximately 1,900 magazines compete for the association's gold medal each year, with gold medal awards going to approximately 10 percent of those who submit publications for review.
In their critique of blue moon's 20th volume, judges noted that the format was "very well set up and inviting" and ranked the magazine's design as "excellent work" while also giving particularly high marks to prose fiction and narrative selections.
"I hope that this recognition inspires the Whitman community to celebrate and support the arts even more," said Rosenberg.
The 21st volume of blue moon will be published in May 2008. For more information on blue moon, including submissions, please visit the website at www.whitman.edu/bluemoon.
-Mark Prentice '08 CONTACT: Lenel Parish, Whitman College News Service, (509) 527-5156 Email: parishlj@whitman.edu