WALLA WALLA, Wash. – Thomas Miller, a Whitman College student from Seattle, Wash., is one of 30 students from around the country chosen for the Public Policy and International Affairs (PPIA) Junior Summer Institute at the University of California-Berkeley.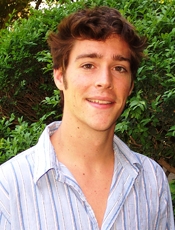 Thomas Miller
This summer marks the 25th year that UC-Berkeley's Goldman School of Public Policy has hosted a summer institute in policy skills. Over the years the institute has focused on issues that empower and better address the needs of historically under-served communities. Domestic and international policy topics typically range from education and child care to immigration and housing/community development.
The institute is structured around an intensive seven-week program, which gets underway June 18, and is geared toward undergraduates who have just completed their junior years of study.
With a curriculum divided between policy analysis, economics, and quantitative methods for policy analysis, the institute seeks to prepare students for later success at top-level graduate programs in public policy and international affairs. The institute also includes a variety of activities intended to give participants a comprehensive knowledge of professional career opportunities in public service.
Miller, who is majoring in politics and rhetoric and film studies, looks forward to the economics component of the curriculum. The summer institute, he notes, provides the "academic setting to rigorously analyze the relationships between race, politics and economics. These are essential relationships to understand for anyone working towards a more inclusive multicultural society."
Miller also looks forward to interacting with "passionate peers who are part of a growing generation of Americans not content with progress made and equipped to navigate across the lines of race, class, gender and cultural differences."
Miller's first exposure to public policy and social issues came as a young student, when he rode school buses daily from his home in northeast Seattle to schools in the central portion of the city. Like many urban centers, Seattle saw school busing as "one solution to get people to cross lines of race and culture, locale and class," he said. The schools he attended, however, reflected a "bittersweet national experience," one in which largely failed efforts at integration fell short of America's rich potential for cross-cultural relations.
At Seattle's Garfield High School, Miller says, "I found the daily boundaries between whites and African Americans profoundly troubling and constricting." As one of the students willing to "cross socially- and economically-policed racial lines," he took advantage of activities that brought groups together, whether it was political marches, spontaneous street poetry, jazz or what he remembers as "frustrated discussions about racism."
At Whitman, Miller serves on President's Advisory Council on Diversity. Last spring, he traveled to Austin College (Sherman, Texas) to present a paper at its Race and Humanities Undergraduate Conference on integrating the Western canon.
Last summer, with funding from the Perry Undergraduate Research Program, Miller worked with Whitman professor Robert Withycombe on researching elements of the Civil Rights Movement in North Carolina. They examined the more nuanced strategies of racial control used during the 1960s as well as the 1979 Greensboro Massacre. They also looked at America's first Truth and Reconciliation Commission, which convened in Greensboro in 2005 and is following the organizational model established in Africa and Latin America to address past war crimes and human rights abuses.
Last fall, Miller studied abroad in Cape Town, South Africa, through the School for International Training. While South Africa remains a racially stratified and unequal society, Miller lived and studied among a variety of groups, including the Xhosa and Zulu, Cape Town Muslims, Afrikaaners and English.
"Through activists in South African townships, I learned how the combination of AIDS-related stigma and economically exclusive access to health care can produce violently-enforced norms," he said. "I was moved by the efforts of these activists to create networks of healthcare and political empowerment under these conditions."
After returning to Whitman, Miller began mentoring struggling youth at Walla Walla's Juvenile Justice Center. Many of those young people face a stacked deck that includes criminal records, low literacy levels and broken families. Something as simple as helping troubled teens with their reading skills, Miller said, might help them "find a way out of gang life" once they are released.
After graduating from Whitman, Miller hopes to travel internationally for a few years to learn more about contemporary struggles for social change. His eventual graduate studies will likely focus on public policy or international affairs, and he also talks about the possibility of law school. One possible future he envisions for himself is working as an attorney and policy analyst for an organization such as the Advancement Project, a nonprofit based in Washington, D.C., and focused on issues of equity and access.
"Through the Advancement Project, I would work towards an active democratic society without structures that entrench racial inequality – a society that is unique in its ability to form inclusive, equitable and empathetic communities."
Miller is one of three Whitman students chosen to participate this summer in one of five PPIA summer institutes held each year around the country. Earlier this year, Whitman juniors Samuel Clark (Colorado Springs, Colo.) and Laura Hanson (Tipp City, Ohio) were chosen for the summer institute at Princeton University's Woodrow Wilson School of Public and International Affairs (click here for that news release).
CONTACT: Dave Holden, Whitman News Service
509 527-5902; holden@whitman.edu