WALLA WALLA, Wash.—
Whitman College Commencement ceremonies Sunday honored a graduating class of 400 seniors—a record number for the college—who were encouraged by speaker and historian Ronald Takaki to continue the practice of epistemology, which he defined for them as the process they had been going through for the past four years: how you know you know what you know.
Takaki, a pioneering scholar in the field of American ethnic studies as well as a professor of ethnic studies at the University of California, is the grandson of immigrant Japanese plantation workers in Hawaii. He described his experiences as an undergraduate at the College of Wooster, with students who "did not see me as a fellow American." He has come to believe, he said, that it was not their fault. "What did you learn in American history about Asian American history or African American history?" he said.
He urged students to take into the world with them a three-part checklist: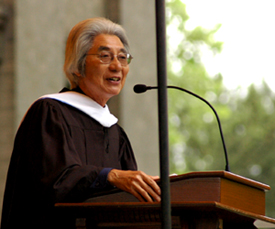 Ronald Takaki

1) Continue to ask "How do I know I know what I know?"
2) Ask of policymakers, "What do they know about what they know?" and
3) Insist that U.S. policymakers ask themselves "What do I know about what I know?" before they make choices that lead to the Iraq War and possibe deportation of 12 million immigrants.
Takaki received an Honorary Doctor of Humane Letters degree at the ceremonies. Robert W. Young '55 was given an Honorary Doctor of Public Service degree in absentia.
Distinguished faculty awards went to Alan McEwen, lecturer and technical director of theatre, who received the first-ever Suzanne L. Martin Award for Excellence in Mentoring; Celia Weller, professor of Spanish, who received The George Ball Award for Excellence in Advising; Kyra Nourse, assistant professor of history, who won the Robert Y. Fluno Award for Distinguished Teaching in the Social Sciences; Rogers Miles, assistant professor of religion, who received the Thomas D. Howells Award for Distinguished Teaching in the Humanities; Kendra Golden, associate professor of biology, who received the A.E, Lange Award for Distinguished Science Teaching; and Paul Apostolidis, professor of politics, who won the G. Thomas Edward Award for Excellence in Teaching and Scholarship.
| | | |
| --- | --- | --- |
| Alan McEwen | Celia Weller | Kyra Nourse |
| Rogers Miles | Kendra Golden | Paul Apostolidis |
The college awarded distinguished high school teaching awards to Jack. E. Eddy, of Peterson High School, Peterson, Alaska, and John Patrick Gonzales, Madison High School, Portland. Each year Whitman recognizes two teachers nominated by Whitman College seniors who feel the teachers had a very positive impact on them.
President George Bridges, presiding over the first Commencement of his tenure, recognized Sally Bryan, who was his English teacher when he attended Roosevelt High School in Seattle.
-30-
Photographer: Asiya Khaki
CONTACT: Lenel Parish, Whitman College News Service, (509) 527-5156
Email: parishlj@whitman.edu