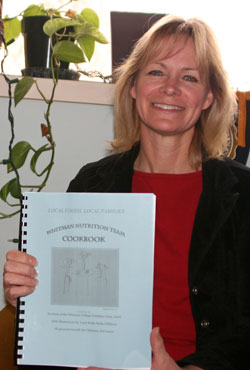 Kendra Golden
WALLA WALLA, Wash.— Mix a bit of holiday spirit, a couple dozen college students and a nutrition professor with a vision and what do you get? A cookbook that feeds the homeless.
"Local Foods, Local Families: Whitman Nutrition Team Cookbook" hit the Whitman College campus earlier this month and community members have been snapping up copies at $5 each, warmed by the knowledge that in addition to gaining 57 pages of mouth-watering recipes made with local foods (everything from apple pie to zucchini frittata) they are helping people served by Walla Walla's Christian Aid Center, which will receive all proceeds from the project.
Whitman College biology professor Kendra Golden and the members of her Bio 127: Nutrition class have been working on their project for several months. "At the beginning of the semester, I told the students that a community outreach project was a requirement of the class," said Golden, and although she encouraged the students to generate their own ideas for the project, it was not optional. "It's a significant component of their grade—equal to about one exam." Student enthusiasm was high for three separate ideas that Golden melded into a single collective project. One class committee provided wholesome snacks and taught students about nutrition at a health fair at Sharpstein Elementary School (Sharpstein students' drawings illustrate the cookbook). Another group cooked and served meals at the Christian Aid Center, and a third compiled and produced the cookbook. "I'm very proud of all their efforts," said Golden, who hopes to be able to contribute $400-$500 from cookbook proceeds to the Center.
A biochemist who received her Ph.D. from The Pennsylvania State University as well as a sports enthusiast whose hobbies include running, weight lifting, softball, basketball and biking, Golden said she discovered early on that biochemistry is about nutrition. When Whitman administrators asked her during her job interview 17 years ago what kind of class she could offer non-biology majors, she responded with "nutrition."
Although Golden's current research interest is in development of environmentally sound insecticide strategies (currently investigating the mechanism of toxicity of the bacterium Bacillus thuringiensis, or "Bt," certain strains of which are insecticidal toward larvae of certain species), she has continued to teach her very popular nutrition course for the past 17 years. At Commencement ceremonies in May of 2006 she received the college's A.E. Lange Award for Distinguished Science Teaching.
End
CONTACT: Lenel Parish, Whitman College News Service, (509) 527-5156; parishlj@whitman.edu
or Kendra Golden, associate professor of biology, golden@whitman.edu