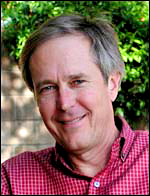 WALLA WALLA, Wash.-- James Fallows, author and national correspondent for "The Atlantic Monthly," will present a talk on U.S. foreign policy when he visits the Whitman campus on Thursday, Sept. 14.
His presentation of "The U.S. and the Islamic World: Victory, Defeat or Coexistence?" is at 7:30 p.m. in Cordiner Hall. His lecture, a part of the O'Donnell Visiting Educators Series, is free and open to the public. Please call 527-5156 for more information.
Fallows is an American print and radio journalist who has been associated with "The Atlantic Monthly" for more than 20 years and has written eight books. His work has appeared in "Slate," "The New York Times Magazine," "The New Yorker," "The American Prospect" and other magazines. He was also one of Nader's Raiders at Public Citizen and Jimmy Carter's chief speechwriter for the first two years of his presidency.
The Ashton J. and Virginia Graham O'Donnell Visiting Professorship in Global Studies Endowment was established in 2002 by the 1943 Whitman alums to give current and future students the chance to experience the opportunities they enjoyed in their careers. Ashton's career after Whitman allowed them extensive travel, business dealings with domestic and international clientele, and diplomatic responsibilities with the U.S. Department of State. The O'Donnell Professorship now supports visiting educators who have expertise in international affairs from the standpoint of practitioners in a variety of fields including diplomacy, human rights, nongovernmental organizations, engineering, the environment and the arts. "We have become increasingly aware of the growing needs for professionals capable of understanding the rapid and disturbing changes in the world," said the O'Donnells in 2002, adding that they believe Whitman students need to prepare to think and act when called upon to participate in the world's constant changes. "Global Studies should provide input and insight to facilitate their participation."
END
CONTACT: Lenel Parish, Whitman College News Service, (509) 527-5156
Email: parishlj@whitman.edu