WALLA WALLA, Wash.— "The Politics of Biosafety" will be the topic of the second O'Donnell Lecture on the Whitman campus this academic year when the general manager of Ethiopia's Environmental Protection Authority visits the college Thursday, Sept. 28.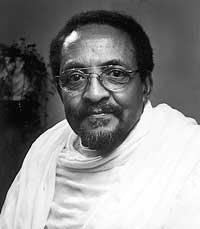 Tewolde Berhan Gebre Egziabher
Dr. Tewolde Berhan Gebre Egziabher of Ethiopia, one of seven people honored on April 21 with the United Nations' Environmental Program's "Champion of the Earth Award," will speak at 7 p.m. in Maxey Auditorium. His lecture is free and open to the public; please call 527-5156 for more information.
Dr. Tewolde won the Right Livelihood Award (aka 'Alternative Nobel Prize') in 2000 "for his exemplary work to safeguard biodiversity and the traditional rights of farmers and communities to their genetic resources." He has taken a stance against widespread use of genetically engineered crops and against patents on life. He has been general manager of the Environmental Protection Authority of Ethiopia, effectively the country's Ministry of the Environment, since 1994. Tewolde's leadership of the Like-Minded Group in 1999 and 2000 played a key role in an outcome—against strong US and EU opposition—that protects biosafety and biodiversity and respects traditional and community rights in developing countries.
END
CONTACT: Lenel Parish, Whitman College News Service, (509) 527-5156
Email: parishlj@whitman.edu