WALLA WALLA — More than 1,000 Whitman students, faculty and staff gathered Thursday in Cordiner Hall and in smaller classroom sessions throughout the day to participate in a symposium on race relations and community at the college.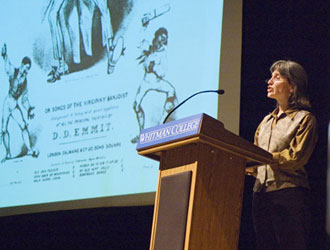 Nina Lerman
Whitman faculty, some 60 of whom helped organize the event, voted to cancel classes so that students could take part in the symposium. Staff was also encouraged to attend the morning plenary session and afternoon discussions on topics ranging from "The Biology of Race" to "The Psychology of Prejudice" to "Individual vs. Institutional Discrimination."
President George Bridges called the all-day event "an integral part of (Whitman's) education and development."
"(Today) represents an unprecedented opportunity to learn more about race and race relations not only at Whitman but also in the larger community," Bridges said in his opening remarks.
The symposium was organized in the wake of e-mail communication triggered by a student theme party for which two Whitman students painted themselves with black paint to mimic the cast of the reality TV series "Survivor: Cook Islands." The episode sparked a large, sometimes vitriolic discussion on the Internet. The Whitman community — students, faculty and administration — responded with a call for a full symposium to address the issue of race from a broad perspective through critical thought and mindful communication.
The morning plenary session featured five faculty presentations and several testimonials from students. In the afternoon, more than two dozen discussion sessions were held in classrooms across campus.
"To get 70 or 75 people talking face-to-face in a classroom about race is fantastic," said Associate Professor of History Nina Lerman, one of the principal organizers of the symposium. "The day was dense with ideas. People had a lot to say, and they were well-spoken. And everyone listened well."
Associate Professor of Biology Delbert Hutchison opened the faculty presentations with a talk about race from a biological perspective. He was followed by history professors Lerman and Duke Richey, who presented a history of visual stereotypes in American pop culture. Helen Kim, assistant professor of sociology, used her lecture to ask the question "Where Did Race Go After Civil Rights?" Brooke Vick, assistant professor of psychology, addressed the psychological effects of being the target of stereotypes, and Paul Apostolidis, associate professor of politics, talked about "Race Politics Now."
Between the faculty presentations, Whitman students shared personal experiences involving race that have affected their lives. The large audience at Cordiner saluted them with a standing ovation at the end of the plenary session.
"What I most hope is that the day has given us the ideas and tools for a conversation — a conversation that continues for a long time," said Lerman.
CONTACT:
Keith Raether
Office of Communications, Whitman College
509.527.4917
raethekr@whitman.edu