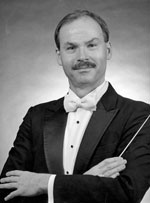 WALLA WALLA, Wash.— The Fridays@Four presentation for Sept. 22 will feature two large works for cello and piano, one by Beethoven and one by Whitman alum William Ashworth '65.
The presentation by cellist Ed Dixon, associate professor of music, and pianist Eleanor Elkins James, music director of the First Thursdays Concert Series at St. Paul's Episcopal Church, will be at 4 p.m. in Kimball Auditorium, Hunter Conservatory, corner of Park and Boyer. The presentation is free; for more information please call 527-5232.
Last summer Ashworth sent a recording of his composition, "Sonata for Cello and Piano," to Dixon, who "liked it very much." This presentation will be only the second performance of the work to date, and Ashworth and his wife, Melody, also a Whitman alum, will attend the performance. Dixon and James will also perform Beethoven's A major sonata, the third of five sonatas composed by Beethoven that is "from his very successful middle period of composition," according to Dixon. "The Beethoven sonatas are the first major works composed specifically for cello in the classical style and set the trend for most of the cello sonatas that followed in the 19th century."
After graduating from Whitman, Ashworth earned an MA in theory and composition from Washington State University in 1967. He spent a year in a doctoral program at the University of Washington before returning to WSU to take a TA in music history. He later changed career paths to writing and librarianship, publishing 13 books on environmental/natural history topics, one of which won the Oregon Book Award in 1999. He also worked as a reference librarian for 18 years in the Ashland (Oregon) public library. Since retiring from the library four years ago, he has been composing: "I've had three pieces performed locally since 2003: a piano trio, a piece for soprano, bassoon, flute and vibes on a poem by William Butler Yeats ("The Silver Apples of the Moon"), and this sonata." He is also in the process of writing a new work for the Whitman Cello Choir.
END

CONTACT: Lenel Parish, Whitman College News Service, (509) 527-5156
Email: parishlj@whitman.edu