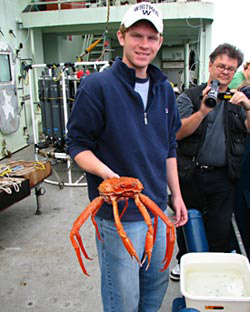 Ray Andrell
WALLA WALLA, Wash.—Whitman Biology professor Paul Yancey and senior Ray Andrell are on the last leg of a 20-day expedition on the research vessel Atlantis to explore the sea life that exists around frozen methane (natural gas) seeps off the California and Oregon coasts.
Yancey was treated to a dive aboard ALVIN, the manned submersible best known for exploring the Titanic remains. Yancey, Andrell and a colleague from Washington State University are on the expedition putting together a deep sea animal collection. (For more information on Yancey's extensive research into deep sea animals and his current collection see his Web page at http://marcus.whitman.edu/~yancey.)
During the 40 minutes it took the submersible to sink to the intended 900 meters (3,000 feet), the sub lights were turned off and Yancey, the pilot and a fellow scientist were treated to visuals of "pure magic -- the ocean became a galaxy of flashing lights, and I could see luminescent jellies, squid, 4-foot-long siphonophores, shrimp, and even fish blinking their headlights as they darted past," said Yancey.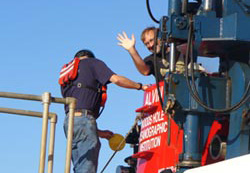 Paul Yancey
Once on the bottom, the scientists began their "real work of collecting tubecores of gas-eating bacteria and various animals." They saw a range of creatures, including sponges on carbonate rocks, searobins, eelpouts and hagfish, and mounds of white, grey and orange bacteria, said Yancey. In addition they witnessed "mysterious rings of methane hydrate (frozen natural gas) that we've never heard described before."
Mid-way through their work, said Yancey, "the real prize appeared—a mysterious clear squid with tentacles sprouting up from its head rather than in front as a 'normal' squid." Before surfacing, they purposely snagged a rock with the submersible's arm which turned out to be a "beautiful vent rock, lined with crystalline chimneys through which gas had once bubbled." Yancey also took a turn at the helm of the ALVIN before the adventure ended, and he was treated to the traditional bucket of ice water and seawater shower when he arrived back on the Atlantis.
Yancey and Andrell will return to dry land Saturday, July 29.
CONTACT: Lenel Parish, Sr. News Service Officer, Whitman College, (509) 527-5156
Email: parishlj@whitman.edu