WALLA WALLA, Wash. – Mark Prentice, a Whitman College junior from Bothell, Wash., is one of 15 undergraduates from around the nation selected to participate this summer in "The Grad School Experience" at the University of Pennsylvania.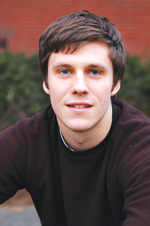 Mark Prentice

Prentice, who is majoring in German studies and history, will spend Aug. 9-15 on the Penn campus, taking graduate-level seminar courses in German literature and culture.
Penn's Department of Germanic Languages & Literatures, the oldest academic program in German studies in the North America, is hosting the program. The seminar classes, taught by Penn faculty, will incorporate study of films, literature, music, paintings and sculpture. The program, aimed at outstanding German majors who have just completed their junior year, is also designed to give participants a taste of graduate studies.
Robert Tobin, professor of foreign languages and literatures (German) at Whitman, nominated Prentice and wasn't surprised to see him selected for the program. "Mark is one of the most ambitious students we have had since I have been here," Tobin said. "He has a real sense of what a scholarly agenda is, and he has a broad interest in German studies."
With funding from Whitman's Abshire Undergraduate Research Program, Prentice assisted this past spring with a collection of essays Tobin is writing on the Eurovision Song Contest, a 50-year-old annual televised celebration of European popular music. Prentice helped with fact-checking, editing and research.
At Whitman's annual Undergraduate Research Conference in April, Prentice gave a presentation on "Sex in the Third Reich: The Sexual Politics of the Nazi Regime, 1933-1945."
This summer, Prentice is working with assistant professor of philosophy Patrick Frierson on a Perry Summer Research project involving Immanuel Kant, the noted 18th-century German philosopher. A year ago, Frierson and another Whitman student completed a rough English translation of Kant's notes for his Observations on the Feeling of the Beautiful and the Sublime. With help from Prentice, Frierson is focused on bringing the translation to a level where it can be submitted to academic publishers for review.
CONTACT:
Dave Holden, Whitman News Service
509 527-5902; holden@whitman.edu