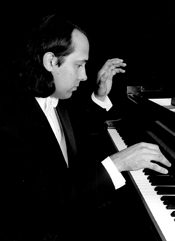 Mark Salman
WALLA WALLA, Wash.— Mark Salman, a nationally recognized pianist associated with Orchestra Seattle, will present the official inaugural concert of Whitman's new Steinway concert grand piano when he visits campus Saturday, Sept. 9.
The music department is hosting the concert, which is free and open to the public, to celebrate this "wonderful addition to the college," said Lee Thompson, music professor. "It is the kind of addition that happens rarely and will be of immense significance to the offerings of the music department." Thompson, who led fund-raising efforts to purchase the much needed concert instrument, traveled to New York last winter to select and purchase the piano.
Salman, a Steinway artist, will perform at 7:30 p.m. in Chism Recital Hall, Hall of Music. He is known for his expertise on Beethoven, having performed the complete cycle of 32 piano sonatas in New York at the age of 28, a rare accomplishment. Salman regularly presents recitals devoted to explorations of the music for piano, often featuring neglected masterpieces. In addition to numerous performances in the United States, he has performed in Asia and Europe and is a co-founder of the Delmarva Piano Festival in Rehoboth Beach, Delaware, which recently completed its thirteenth season.
A native of Connecticut, Salman began his piano studies at the age of eight and made his recital debut at eleven. He is a graduate of the Juilliard School as well as a winner of the Young Musician's Award, and his 1989 New York debut recital was in Carnegie's Weill Recital Hall. Since then he has become known in the music world for his original artistry, commanding virtuosity and encyclopedic repertoire.
END
CONTACT: Lenel Parish, Whitman College News Service, (509) 527-5156
Email: parishlj@whitman.edu