WALLA WALLA, Wash. — New rankings from five national sources reconfirm Whitman's place in the top tier of more than 2,500 colleges and universities in the nation.
The New York Times, U.S. News and World Report, The Princeton Review, Washington Monthly magazine and "The Advocate College Guide for LGBT Students" all gave Whitman superior marks and glowing evaluations in their surveys of undergraduate schools.
The New York Times cited Whitman as one of 20 lesser-known academic treasures in the country. Washington Monthly magazine ranked the school No. 9 among all liberal arts colleges, ahead of Swarthmore College and just behind Williams.
Whitman excelled again in quantitative categories such as selectivity, graduation/retention rates, faculty resources and alumni gift-giving, as well as in qualitative measures such as race/class interaction, library facilities and resources, efficiency of operations and the general happiness of its students with the school.
The rankings underscore the school's internal achievements. Whitman's graduation rate has climbed to 88 percent, and more than 50 percent of its alumni make financial contributions to the school.
"The recognition by so many sources of Whitman's place in higher education is very gratifying, and we hope it makes parents and prospective students more aware of the extraordinary learning experience that our college offers," said President George Bridges. "The rankings reinforce our core purpose: effectively educating the future leaders of the world."
The New York Times
Whitman's distinction in the Times as one of 20 academic gems in the country is the result of a survey compiled by national correspondent Randal Archibold from recommendations by a dozen education experts and counselors. The final list reflects colleges that excel in academic standards, undergraduate teaching and established or rising scholarship.
The Times cited Whitman for its engaged faculty, aggressive recruitment of minority and low-income students, generous scholarships and three-dimensional educational experience. The paper's list, Archibold noted separately from his report, comprises schools that not only excel in academic rigor and depth but also possess "an individual style or signature" that set them apart from "the usual suspects"— the brand-name colleges and universities across the country.
"Whitman is a place that allows students to breathe in many ways," Archibold said. "It's a place where a student can shape a very individual learning experience in a rigorous academic environment."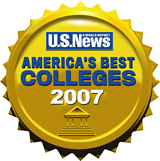 U.S News & World Report
In U.S. News & World Report's newly released annual rankings, Whitman improved on last year's showing in several key areas. In graduation/retention, the school jumped five positions from 26 to 21. In selectivity, the college moved from 33 to 29. Freshmen in the top 10 percent of their class increased from 57 percent to 60 percent, and the college moved up a notch in both alumni gift-giving and financial resources.
The Princeton Review
In the 2007 edition of The Princeton Review's "361 Best Colleges," a guide based on questionnaires distributed to some 115,000 students, Whitman placed in the Top 10 of all schools in four key categories and in nine of 20 major categories. The school ranked No. 3 in happiest students and intramural sports, No. 5 in library facilities and No. 6 in the efficiency of school operations.
Whitman also ranked No. 13 in race/class interaction, No. 14 in residence halls and college radio station, No. 15 in college theater and No. 16 in accessibility of its faculty to students.
"With a tight community that has approachable professors, small class sizes, and a rigorous academic course to prepare well-rounded, well-educated students, Whitman is a comfortable fit for its intelligent and passionate student body," Princeton Review editors noted. In the survey, students drew attention to "the great length to which the staff, faculty and administration go to make sure that we are happy, healthy and doing well in school."
Special mention was also made of Whitman's 24-hour library, abundant computer labs and study areas, and myriad extracurricular activities. Students also appreciated that "Whitman is a very green campus, and aware of the environment."
Washington Monthly
The yardstick used in Washington Monthly's annual college guide underscores the core educational aims of Whitman. The magazine rated schools on three criteria: how well they perform as "engines of social mobility," how much they do to foster humanistic and scientific research, and how well they nurture "an ethic of service to country."
Whitman ranked third among liberal arts schools in Peace Corps placements and fifth in federal work-study money dedicated to community service.
"Whitman's ranking in the Top 10 indicates that citizens, taxpayers and the world at large is getting something special out of (the college)," said T.A. Frank, consulting editor at Washington Monthly.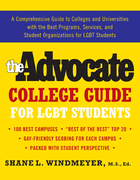 "The Advocate College Guide for LGBT Students"
The first comprehensive guide to highlight campuses with the best programs, services and student coalitions for lesbian, gay, bisexual and transgender (LGBT) students ranks Whitman among the Top 100 campuses in the country. The guide notes that "the culture of (Whitman's) local community is progressive and open-minded and embraces the LGBT community. The LGBT progressiveness is the result of years of work by the LGBT campus community."
LGBT students at Whitman described the campus environment as "vibrant," "passionate" and "accepting."
The guide also notes that Whitman faculty have built into school's curriculum courses on gender studies in all major disciplines. Gender Studies is offered as an academic major at the college.
All of the surveys amplify the findings in Loren Pope's book, "Colleges That Change Lives," in which Whitman was cited as one of 40 exceptional colleges in the country.
CONTACT:
Keith Raether
Office of Communications, Whitman College
509.527.4917
raethekr@whitman.edu