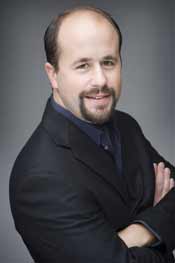 Travis McElfresh
WALLA WALLA, Wash.—
MSNBC.com
's vice president of technology, also a 1992 Whitman graduate, will present a lecture on his career path when he visits the Whitman campus Thursday, Sept. 21.
Travis McElfresh, who graduated from Whitman with a degree in geology, will discuss "From Whitman to MSNBC.com: Grad school, the dotcom boom, Microsoft, Xbox and MSNBC.com" at 7 p.m. in Ballroom B, Reid Campus Center, 280 Boyer Ave. His presentation, hosted by the Career Center, is free and open to the public. For more information, please call 527-5156.
McElfresh, who did graduate work focused on geologic Internet data systems at the University of Wyoming, currently oversees program management, developing, testing, video architecture, master control, operations, news production and web operations at MSNBC.com.
The Anjelkovic Lecture, hosted annually through the Career Center, is funded by an endowment made possible by Voja Andjelkovic '94.

-END-
CONTACT: Lenel Parish, Whitman News Service, (509) 527-5156
Email: parishlj@whitman.edu