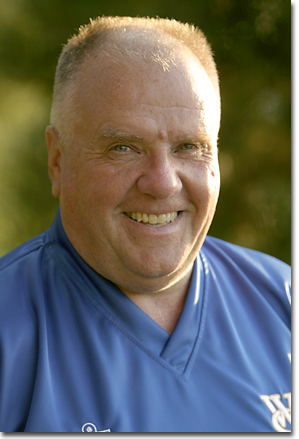 WALLA WALLA, Wash.— Long road trips are nothing new for athletic teams at colleges sprinkled around the wide-open spaces of the Pacific Northwest.
But the season-opening trip facing the Whitman College men's soccer team is a bit longer than most. The Missionaries hit the road Aug. 1 to wing their way across the country, and the Atlantic, on a two-week jaunt to England.
Walla Walla to Bristol, England. That's 4,700 miles one way, give or take a kilometer or two, stretching across seven time zones.
Mike Washington, the head coach at Whitman for the past nine years, is a native of the Bristol area. A veteran of England's highly competitive club ranks, he played and then coached through his early 30s. This summer marks the second time in five years he is shepherding his squad to his soccer-crazy homeland.
The benefits of such a trip are many, he says, including the early jump it gives his team on its fall season. And as his players soak up some British history and culture, Washington hopes they pay particular attention to the more nuanced English feel for the game of soccer.
Working through an old friend in Bristol, Washington has a handful of games scheduled for the two dozen Whitman players making the trip at a cost of $1,500 per player. What his team learned during its last trip, he says, is that U.S. players have the most to learn when it comes to the mental part of the game.
"We're just as strong and just as fast as the teams we'll play next month," Washington says. "What tends to happen, though, is that we get humbled a bit by their ability to read the game as it happens. The boys in England have grown up with soccer as their national sport, which gives them a big advantage."
The Whitman contingent will cap its English road trip with an Aug. 14 trip to the storied Manchester United Football Club. Manchester United and its 76,000-seat stadium, Old Trafford, are the English equivalents of the New York Yankees and Yankee Stadium. Washington, who turns 57 in November, still gets "goose bumps" when he visits the Manchester grounds, which include a club museum and an expansive memorabilia store stocked with millions of pounds of soccer merchandise.
Weston-super-Mare, a seaside resort town 18 miles southwest of Bristol, will serve as home base for the Whitman team during its stay in England. Games scheduled include match-ups with Bath City, Bridgwater Town and Paulton.
"Bath City has the more established football club, and I think our boys will enjoy the history behind the city," Washington says. Ancient Celts first inhabited the area, believing its hot springs were sacred, and the Romans later constructed a magnificent temple and bathing complex that have since been restored.
Most English football clubs are financed by business interests, and the larger clubs sponsor several teams for players ranging in age from youth to adult. Washington expects to play club teams stocked with a mixture of players from the adult reserve and older youth ranks.
"We'll play teams with players who are about the same age as our boys," Washington says. "After the games, each club will host a dinner for us on the club grounds. It's really quite a fun atmosphere for the boys."
Scott Ritts, Whitman's assistant coach, and the parents of a handful of the players are also making the trip to England. "It's going to be a good trip," Washington says. "We'll also go to a few professional games and have time to see the sights."
Whitman begins its official fall workouts on Sunday, Aug. 20, and plays its first scrimmage on Friday, Aug. 25, hosting Albertson College at 7 p.m.