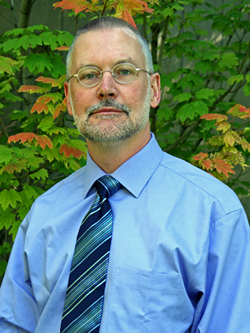 Timothy Kaufman-Osborn
WALLA WALLA, Wash.— Timothy Kaufman-Osborn, Baker Ferguson Chair of Politics and Leadership at Whitman College, will serve as the school's interim dean of the faculty for the 2006-07 academic year, President George Bridges announced.
"That such an esteemed educator as Timothy would greet this challenge so openly and fully is a resounding endorsement of Whitman's mission," said Bridges.
Kaufman-Osborn replaces Pat Keef, who will rejoin Whitman's mathematics department, where he began his career at Whitman in 1980. Keef, who took over as dean of faculty in 1996, will be on sabbatical during the 2006-07 academic year.
"I am delighted to have the opportunity to serve in this office at this propitious moment in the history of Whitman College," said Kaufman-Osborn. "By all measures, in recent decades, Whitman has become one of the best liberal arts colleges in the nation. I look forward to doing what I can to make the school even better."
Kaufman-Osborn, who came to Whitman in 1982, studied politics at Oberlin College, where he earned his undergraduate degree, and Princeton University, where he received his M.A. and Ph.D. He also has a master's degree in political science from the University of Wisconsin-Madison.
His publications include From Noose to Needle: Capital Punishment and the Late Liberal State; Creatures of Prometheus: Gender and the Politics of Technology; and Politics/Sense/Experience: A Pragmatic Inquiry into the Promise of Democracy. He has also published numerous scholarly articles on topics ranging from American pragmatism to feminist theory.
Thomas Dumm, professor of political science at Amherst College, calls From Noose to Needle "perhaps the best single study of the relationship of liberalism to capital punishment ever penned."
Kaufman-Osborn's academic honors include the Robert Fluno Award for Distinguished Teaching in the Social Sciences, the Pi Sigma Alpha Award from the Western Political Science Association, the Betty Nesvold Women and Politics Award, and the Paul Garrett Fellowship for excellence in undergraduate teaching.
He is president of the American Civil Liberties Union of Washington and a member of the executive council of the American Political Science Association. From 2001 to 2003 he served as president of the Western Political Science Association.
CONTACT:
Keith Raether
Office of Communications, Whitman College
509.527.4917
raethekr@whitman.edu